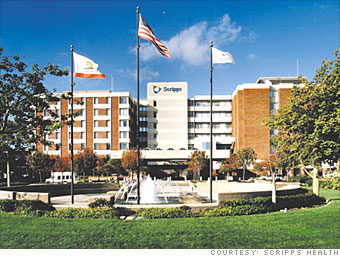 Average total pay: $121,908
For:
Manager-Director*
Best Companies rank: 59
Headquarters: San Diego, CA
Compensation policy at Scripps, which includes five hospitals in San Diego County, is to pay 65% of the market. As a result, registered nurses get annual base pay of $80,460, topped by an average bonus of $26,200. More than 238 nurses at Scripps make at least $100,000 annually. The company's unusual retirement plan increases the employee match of contributions as they get older.
And when it comes to health-insurance premiums, Scripps staffers pay only 4%, vs. the 27% national average. Even for dependents, Scripps picks up 88% of the premium. Scripps reduces the premium even more for lower-paid employees.
NEXT: MITRE
Last updated February 05 2009: 1:03 PM ET
Email
|
Print
|

Digg this story
|
RSS
*Most common salaried job

An earlier version listed an incorrect pay number for Chesapeake Energy. The correct amount is $120,576, not $178,108, which moves Chesapeake from #7 among top payers to #24. The rankings have been adjusted accordingly.