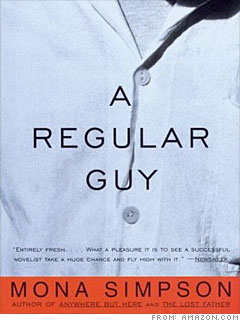 By Mona Simpson (1996)
The reader in search of the most reliable insight into the essence of Steve Jobs would be wise to seek out an especially revealing book that never even mentions Apple, much less Next or Pixar. For that matter, it doesn't even mention Steve Jobs.
A Regular Guy, a novel by the widely admired fiction writer Mona Simpson, does not trouble itself with too much disguising. From the opening sentence -- "He was a man too busy to flush toilets" -- you know her protagonist, Thomas Rudolf Owens, is actually Steve Jobs.
He's a judgmental, obsessive narcissist who despite his many millions likes to think of himself as "a guy in jeans, barefoot in the boardroom." He gets thrown out of his company by people he brought in. He gives houses to his ex-girlfriends in exchange for signed nondisclosure agreements.
Owens has a daughter he first disowns and then embraces (she could have been fathered, he says, "by 3% of the world's population"); he's "surprisingly slow to get a joke"; and he lives a life "cluttered with luck." But he's brilliant and charismatic and deeply loyal to the people he cares about. Mona Simpson ought to know -- Steve Jobs is her brother.

More galleries