The books of Jobs
A look at the tomes that have tried -- with varying degrees of success -- to capture Apple's elusive leader.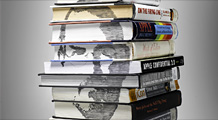 Many writers have produced books that add substantially to our understanding of His Royal Jobsness. They come in three genres that follow his career: Hero, Creep and Creepy Genius.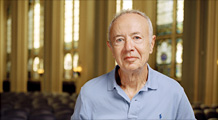 Eight people who rarely speak publicly about Jobs explain what makes him one of the best business minds of our time.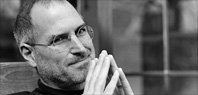 He revived Apple and remade entire industries, defying the worst economic conditions since the Great Depression -- and his own serious health problems.
(Fortune magazine) -- Of all the pithy, pointed, and quotable sentences uttered about Steve Jobs during his three decades on the national scene, my favorite comes from an early Apple colleague: "He would have made an excellent king of France." Except even Louis XIV would envy the quantity of words spilled by two generations of journalists trying to tell us what King Steve is really like.
I'll confess: I didn't read every page of the 21 Jobs-related books stacked so thickly on my desk that there's barely room left for my 24-inch, 2.93GHz iMac, my 120GB iPod, my iPhone G3, or my backup Mac Mini. (I've taken a pass on the Apple TV, which seems about as necessary as a backache.)
Time was a problem, of course, but there was also what I call the Moritz factor: Page 177 in one Apple book is likely to be a rewrite of page 252 in another, which reformulates something from page 96 in yet another, which was originally found in "The Little Kingdom," by journalist Michael Moritz. Like, for instance, the king of France line, which has spread through the Jobs literature like a viral video on YouTube.
In the early '80s, Jobs gave Moritz complete access to virtually every aspect of his life and of Apple (AAPL, Fortune 500). Two things emerged from the experience: a fine book, and Jobs' decision to slam the door in the face of most serious journalists who came after. (He has made exceptions, but by some uncanny coincidence they've tended to occur in very close proximity to new product launches.)
Fine as "The Little Kingdom" is, since its publication in 1984 the Jobs canon has had to weather the passage of 25 years, one exile, an unlikely return, the iPod, the iPhone, suspended glass staircases, and a grave illness. (Perhaps that's why Moritz is rereleasing the book in November.)
Even though some of the more up-to-date histories of Apple and Jobs lean so heavily on "The Little Kingdom" that they almost tip over, several writers have managed to produce books that add substantially to our understanding of His Royal Jobsness.
They come in three basic genres. In the first, which largely deals with the development of the Macintosh or other feats of technology, the hero is Steve Jobs, Genius. The second, provoked by the company's sinking fortunes and Jobs' ouster in the 1990s, and concentrating heavily on his perceived personality flaws, defines Steve Jobs, Creep. The third, which focuses on his return to Apple and the subsequent development of the iPod and iPhone (but rarely loses track of that troublesome personality) is devoted to Steve Jobs, Creepy Genius.
Jobs as Genius.
The best examples of the first genre are two books by Steven Levy, who has twice evoked Jobs in his Genius mode -- first for 1994's "Insanely Great," about the evolution of the Macintosh, and 12 years later in "The Perfect Thing," about the creation of the iPod.
Levy, a longtime tech specialist at Newsweek who now writes for Wired, does not concern himself with the private Jobs and skates lightly over Jobs the professional bully, sticking instead to the man's business skills. This approach clearly helped Levy secure Jobs' cooperation for both books, which gives them a knowing intimacy that most other post-Moritz chroniclers can't reach.
Later entries in the Genius genre, like Leander Kahney's "Inside Steve's Brain" (2008), can't avoid the personality issue. "This is the first evidence of three-digit intelligence at Apple I've seen yet," the delightful Mr. Jobs tells the OS X development team, according to Kahney.
But "Inside" is more comfortable focusing on Jobs' strengths, including his manic attention to detail (Kahney relates how Jobs had a design team spend six months "refining the scrollbars" in OS X) and an unshakable conviction that customer research stifles innovation. According to Kahney, Jobs believes that customers don't have any idea what they want.
Jobs as Creep.
That's what success will do for a fellow: 15 years earlier Randall E. Stross, in "Steve Jobs and the NeXT Big Thing," saw Jobs' unwillingness to listen to customers as a major flaw, a prime contributor to his eventual downfall.
Stross's book about the failure of Next Computing, the business Jobs tried to create in his desert years, is the leading exemplar of the Jobs-as-Creep genre, at the very least for the intensity of its invective. Stross was one of the post-Moritz reporters Jobs refused to cooperate with, and you can't help detecting a wee bit of anger when, on a single page, a writer can call his subject "arrogantly oblivious," "unmerciful," and an "unapologetic snob" who is "imprisoned ... by his selective historical memory."
In another book from this era, "Apple: The Inside Story of Intrigue, Egomania, and Business Blunders," author Jim Carlton undercuts his generally solid reporting with some thudding prognostication. From the epilogue: "The bottom line, I feel, is that Apple can't make it on its own." The book's last sentence: "Apple needs a miracle."
Jobs as Creepy Genius.
A portion of the miracle is chronicled by Alan Deutschman (a former Fortune writer) in "The Second Coming of Steve Jobs" (2000), which provides a smooth transition to the Creepy Genius genre. What may have been the most commercially successful Steve book generously acknowledges what Deutschman deems the key element of Jobs' success ("supporting the creative achievements of others") and ticktocks the turnaround Jobs engineered after his return to Apple.
But Deutschman also spends dozens of pages plumbing the uglier aspects of Jobs' personality. A prank Jobs and his pal Larry Ellison played on a hapless engineer is so cruel and pointless that it makes you want to avert your eyes.
The list goes on. Andy Hertzfeld's "Revolution in the Valley" (2005) is like a documentary of the early days, a series of short takes by a software engineer who joined Apple in 1979 and maintains both respect and warm regard for Jobs.
"iCon: Steve Jobs, the Greatest Second Act in the History of Business," by Jeffrey S. Young and William L. Simon (2005), so incensed Jobs that Apple executives felt the need to remove all its publisher's books from Apple's retail stores. (That may have been done out of peevishness, but it would have been justifiable as literary criticism too.)
"Options: The Secret Life of Steve Jobs," by Daniel Lyons -- a.k.a. "Fake Steve Jobs" -- shows that what's funny when short can get tedious when long.
Owen W. Linzmayer's "Apple Confidential 2.0: The Definitive History of the World's Most Colorful Company" (2004) may not be definitive, but it incorporates a veritable Bartlett's of juicy quotations about Jobs and Apple. (Bill Gates to a reporter who asked whether Microsoft (MSFT, Fortune 500) would develop software for Jobs' Next: "Develop for it? I'll piss on it.")
For Jobs' battles with John Sculley, who fired him in 1985, find a copy of the solid "West of Eden," by Frank Rose (1989). Ex-CEOs Sculley ("Odyssey: Pepsi to Apple") and Gil Amelio ("On the Firing Line") both take their own shots at Jobs, but one famous comment of Jobs' in Sculley's book says more about his personality and his vision than any amount of description, hostile or otherwise. Recruiting Sculley from the presidency of Pepsi-Cola, the 27-year-old Jobs asks, "Do you want to spend the rest of your life selling sugared water, or do you want a chance to change the world?"
The reader in search of the most reliable insight into the essence of Steve Jobs would be wise to seek out an especially revealing book that never even mentions Apple, much less Next or Pixar. For that matter, it doesn't even mention Steve Jobs. "A Regular Guy," a 1996 novel by the widely admired fiction writer Mona Simpson, does not trouble itself with too much disguising.
From the opening sentence -- "He was a man too busy to flush toilets" -- you know her protagonist, Thomas Rudolf Owens, is actually Steve Jobs. He's a judgmental, obsessive narcissist who despite his many millions likes to think of himself as "a guy in jeans, barefoot in the boardroom."
He gets thrown out of his company by people he brought in. He gives houses to his ex-girlfriends in exchange for signed nondisclosure agreements. Owens has a daughter he first disowns and then embraces (she could have been fathered, he says, "by 3% of the world's population"); he's "surprisingly slow to get a joke"; and he lives a life "cluttered with luck." But he's brilliant and charismatic and deeply loyal to the people he cares about.
Mona Simpson ought to know -- Steve Jobs is her brother.