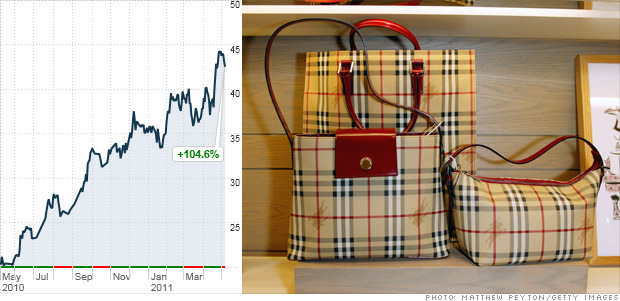 12-month return: 105%
2011 P/E: 40
Market cap: $9.5 billion
Sales of Burberry (BURBY) have been growing at double-digit rates around the globe.
Last quarter, revenue surged 48%, trouncing Wall Street's expectations, with sales in Asia leading the way. A Burberry trenchcoat worn by British royal newlywed Kate Middleton in early March caused a shopping frenzy, selling out within hours online and even in stores.
The iconic British luxury brand is capitalizing on its recent strength, with plans to open 25 new stores during the next year. The company will focus on expanding its business in emerging markets, particularly in China, Latin America and the Middle East.
Anlaysts at Goldman Sachs expect Burberry will continue to benefit as it reaches out to increasingly wealthy consumers across the globe, and expect the company's shares to rise more than 10%.