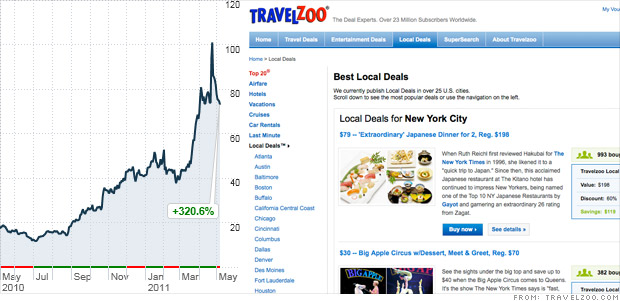 12-month return: 321%
2011 P/E: 46
Market cap: $1.2 billion
Last August, Travelzoo (TZOO) launched Local Deals, a service similar to Groupon and Living Social, that allows businesses, such as restaurants and spas, to offer local discounts to Travelzoo subscribers.
That's been a huge driver for the company...and its stock price. In the nine months since its introduction, Local Deals expanded to 48 markets, and shares of Travelzoo soared more than 400%.
"Local Deals went from being nothing to a multi-million dollar business for them," said Edward Woo, an analyst at Wedbush Securities. "It's still small, but the growth rate is very high and it should be very profitable."
Last quarter, Local Deals doubled its revenue to $16.2 million. Woo thinks the Local Deals' breakout performance will continue to push shares of Travelzoo up 47% to $107.
Other analysts are even more optimistic, with analysts at Benchmark Capital raising their target price for the stock to $123 per share.