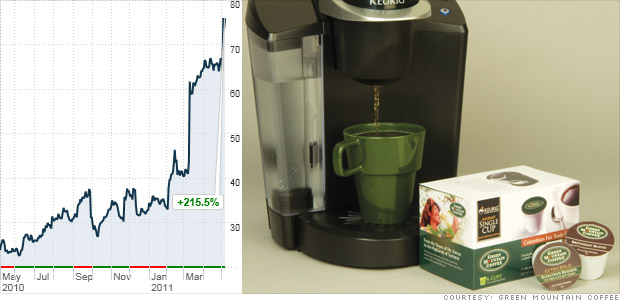 12-month return: 216%
2011 P/E: 60
Market cap: $11.5 billion
Shares of Green Mountain Coffee (GMCR) have tripled over the past 12 months, as coffee lovers continue to adopt the company's Keurig brewing system, which whips up a cup of joe, tea, hot cocoa or iced beverage in less than a minute using Green Mountain's wildly popular K-cups.
Green Mountain's revenue doubled to $648 million last quarter, driven by growing demand for the brewing system and K-cups.
The stock has gotten an extra jolt in recent months. Green Mountain has been busy inking partnership deals with some of the biggest brands in the industry, including Dunkin' Donuts, Starbucks (SBUX), and even packaged food giant ConAgra (CAG), to sell pods of Swiss Miss hot cocoa.
"The introduction of highly recognized brands in the K-cup systems should continue to accelerate adoption of the Keurig brewers," said Janney Montgomery Scott analyst Mitchell Pinheiro, who expects Green Mountain's stock to rise another 32% to $100 per share.