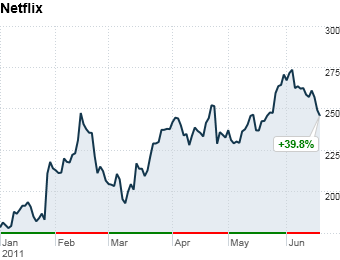 YTD performance: 40%
Market cap: $13 billion
For many technology investors, Netflix (NFLX) has been the stock that investors love and hate at the same time.
Last year, Netflix shares soared a massive 220%. And Netflix started off this year with a bang as well -- reporting earnings in January well ahead of analysts expectations. The company has also worked on developing closer ties with content producers, inking partnerships with CBS (CBS), Miramax and LionsGate, maker of the popular TV series "Mad Men."
But bearish investors remain deeply concerned that Netflix shares are extremely overvalued, even with the company's bright prospects. The company trades at a massive price-to-earnings ratio of 55. There are also concerns that bandwidth caps in places like Canada and parts of the U.S. could eventually hit Netflix's bottom line.