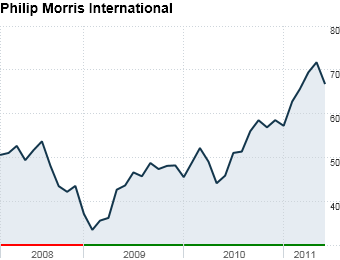 The world's second-largest cigarette maker, Philip Morris International ( PM ) controls nearly 16% of the tobacco market outside of the United States.
After being spun out of Altria in 2008, the international tobacco company is now second only to China National Tobacco, which dominates one of the biggest cigarette markets in the world.
Philip Morris owns seven of the leading 15 cigarette brands, including the iconic Marlboro, which accounted for more than one third of total sales volume last year.
In addition to selling a highly addictive product, Philip Morris operates in parts of the world where tobacco regulations are relatively loose, which is good for business. It has also benefited from the weak U.S. dollar.
The New York-based company recently raised its outlook for this year's profits by 20 cents per share, citing improved business conditions and favorable currency exchange rates.