Stocks snap winning streak
Blue-chip index falls almost 100 points after six days of advances, as investors question recovery fundamentals.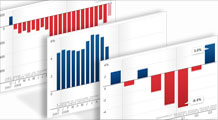 The economy has grown for five straight quarters, but there are signs that the recovery is still fragile.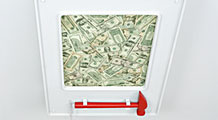 Low interest rates and the recent stock market surge make this a challenging time to find the best places for your extra cash.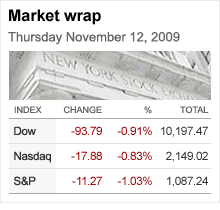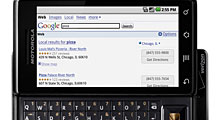 Consumers looking to buy electronics for holiday gifts won't have to break the bank this season.
Map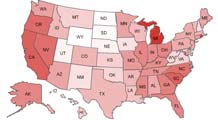 NEW YORK†(CNNMoney.com) -- Stocks closed sharply lower Thursday, ending a six-day rally as investors questioned the runup in the face of an unclear recovery.
The Dow Jones industrial average (INDU) fell 94 points, or 0.9%, to close at 10,197.47. Energy and financial shares led the decline, and 26 of the 30 Dow components ended lower.
The S&P 500 (SPX) slipped 11 points, or 1%, to end at 1,087.24, and the Nasdaq composite (COMP) dropped 18 points, or 0.8%, to settle at 2,149.02.
The Dow has ended higher for the past six sessions. During that streak, the Dow has soared more than 500 points, or 5.3%, to a series of 13-month highs.
Stocks had opened lower Thursday before reversing course several times, following a modest gain Wednesday in which the blue-chip Dow hit its third consecutive 13-month high.
Mark Luschini, chief investment strategist for Jamey Montgomery Scott, said Thursday's pause was unsurprising given the consecutive gains in stocks so far this month.
Dave Shepherd, president of Retirement Financial Services, agreed, noting that it will be difficult for stocks to sustain gains given the underlying weakness in the labor and housing markets that are leaving consumers cash-strapped.
"For this rally to be sustainable, the consumer has to bounce back," Shepherd said. "The market is acting so contrary to some of the data."
The recent runup is a "relief rally, because we realize the economy isn't going to collapse," Shepherd said, and the market seems to be questioning whether the increases are based on true fundamentals.
"We've had this unprecedented rally off the lows we saw in March, so a pause today [is] normal," he added. "I would tend to think a correction will come soon, but there's been so much momentum."
Shepherd said the rapid rise is cause for concern, as stocks took three years to recover from a similar decline in 2002.
"There's a lot of money floating around, we haven't had the data to back it up," Shepherd said. "Either the data have to get better or stocks are going to retreat as the market worries it got ahead of itself."
Currencies in focus. The dollar was slightly higher against major international currencies late Thursday, and overnight gains in the greenback had triggered some selloff in foreign markets -- spilling over into U.S. stocks, said D.A. Davidson & Co. analyst Fred Dickson.
"It wasn't a tidal wave of selling," Dickson said. "But with the stock market and the dollar so closely tied lately, it did have an effect."
A softer dollar encourages investors to move into higher-yielding assets like stocks; a firmer greenback tends to send the stock market lower.
With the Federal Reserve holding the key interest rate near zero and pumping money into the economy, the dollar has hovered near 15-month lows, Dickson noted. Stocks may have been more susceptible to the dollar's small rise Thursday because of the relative lull in economic news this week and the recent rally that occurred despite fragile signs of recovery, he said.
Companies: Wal-Mart (WMT, Fortune 500) announced on Thursday that it beat third-quarter earnings estimates.
The world's biggest retailer said earnings were 84 cents per share on sales of $98.7 billion. Analysts surveyed by Thomson Reuters expected 81 cents per share.
Intel (INTC, Fortune 500) and Advanced Micro Devices (AMD, Fortune 500) announced an agreement to end all legal arguments between the companies, including antitrust litigation and patent disputes. Among other provisions, the agreement stipulates that Intel will pay AMD $1.25 billion and AMD will drop all pending litigation worldwide.
HP (HPQ, Fortune 500) said late Wednesday that it was buying networking company 3Com (COMS) for $2.7 billion.
Economy: The Labor Department released its weekly report on initial jobless claims, which said there were 502,000 new filers last week. That's the lowest level since Jan. 3. Economists were expecting 510,000 claims.
The Treasury Department said the federal deficit hit $176.4 billion in October -- the 13th monthly deficit in a row and the first one of the fiscal year.
President Obama said Thursday he will hold a jobs forum at the White House in December, as the country faces a 10.2% unemployment rate.
Other markets: Stocks in Japan and Hong Kong finished the session lower. Major European indexes ended mixed.
Oil prices dropped 3% after a report from the Energy Information Administration showed crude supplies jumped more than expected. U.S. crude fell $2.34 to settle at $76.94.
Gold prices also slipped, halting a runup that has driven the metal almost 6% higher this month. December gold fell $8 to settle at to $1,106.60 an ounce.
Treasurys were mixed late Thursday, with longer-dated securities edging lower, following a $16 billion auction of 30-year bonds that was met with lackluster demand. The benchmark 10-year note's yield was up 3.46% from 3.42%.
Market breadth was negative. On the New York Stock Exchange, losers topped winners by four to one on volume of 828 million shares. On the Nasdaq, decliners topped advancers more than three to one on volume of 2 billion shares.

Features

These Fortune 100 employers have at least 350 openings each. What are they looking for in a new hire? More

It would be the world's second-biggest economy. See how big companies' sales stack up against GDP over the past decade. More