Stocks roar into August, Dow gains 200 points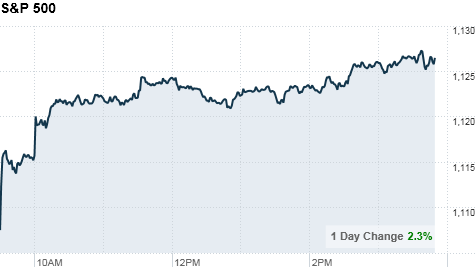 NEW YORK (CNNMoney.com) -- Stocks rallied Monday, extending last month's gains, as investors welcomed upbeat economic reports and strong earnings from European banks.
The Dow Jones industrial average (INDU) rose 208 points, 2%, according to early tallies. The S&P 500 (SPX) index jumped 24 points, or 2.2%, and the Nasdaq (COMP) composite gained 41 points, or 1.8%.
The rally came after stocks rose 7% in July, marking the best monthly gain in a year, on solid second-quarter results from a range of major U.S. companies. The bullish tone carried over Monday as investors cheered quarterly results from European banks HSBC and BNP Paribas.
"I think the market is looking at earnings reports and saying things are not as bad as we thought," said Dave Hinnenkamp, chief executive at KDV Wealth Management. "Yes, the economic recovery won't be at a brisk pace, but companies are still earning money and their balance sheets are in good shape."
Given the strength of corporate earnings, Hinnenkamp said the S&P 500 could be headed back towards its late-April highs near 1,200. The broad stock index ended Monday at 1,125.81 after breaking through a key technical level.
Energy giants Chevron (CVX, Fortune 500) and ExxonMobil (XOM, Fortune 500) both jumped as oil prices surged past $80 a barrel on renewed optimism about global economic growth. But the rally was broad-based too. All 30 Dow stocks were positive, with the biggest gains in the materials and technology sectors.
In addition to encouraging corporate results, stocks were helped by a smaller-than-expected decline in a gauge of U.S. manufacturing activity and a surprise increase in construction spending.
While questions remain about growth in the second half of the year, Monday's reports helped ease worries that the economy could relapse into recession.
"Manufacturing is still holding steady," said Steven Goldman, market strategist at Weeden & Co. "That gives investors a convincing argument that the economy is not going to double dip."
Stocks closed mixed Friday as economic concerns tempered upbeat earnings sentiment. Despite the rally in July, the market is up modestly for the year. Stocks had slumped in April and May amid concerns about the European debt crisis and mixed economic indicators in the United States.
Looking ahead, investors said the focus may shift later this week from earnings to the economy, particularly the outlook for the U.S. job market.
"Earnings are going to start to wane," said Stephen Carl, head equity trader at Williams Capital Group. "So the market is going to be reacting to the economic numbers."
On Tuesday, investors will take in government data on personal income and spending before the market opens, while a report on factory orders comes out later in the morning. Automakers are slated to report July sales throughout the day.
The government's monthly payrolls report is due from the Labor Department on Friday. Economists expect the report to show that the economy lost jobs for the second month in a row in July and the unemployment rate is forecast to increase slightly.
Economy: A key index of U.S. manufacturing activity came in better than expected in July, while construction spending rose unexpectedly in June.
The Institute for Supply Management's (ISM) index eased slightly last month to a reading of 55.5 from 56.2 in June. But the measure has been above 50, the level indicating growth, for a full year. Economists surveyed by Briefing.com had expected the index to fall to 54.2, according to consensus estimates.
Separately, the Commerce Department said construction spending rose 1% in June to a seasonally adjusted annual rate of $836 billion. Economists expected construction spending to fall 0.8% in June, following a 0.2% dip in May.
Companies: HSBC (HBC), Europe's biggest bank, said Monday that its earnings more than doubled in the first half of the year. The bank's profit climbed to $6.76 billion during the first six months of the year, up from $3.35 billion in the same period a year earlier.
French bank BNP Paribas (BNP) said net income jumped 32% in the second quarter on strength across all business units.
Shares of BlackBerry maker Research in Motion (RIMM) fell 1.7% after the United Arab Emirates said it will ban the Web operations of more than a half-million BlackBerry users due to security issues.
Bernanke: Federal Reserve chairman Ben Bernanke said Monday that financial markets have improved from the depths of the crisis, but he acknowledged that conditions have become "somewhat less supportive of economic growth in recent months."
He said concerns about the fiscal health of many European economies had weighed on the market this year, although a recent round of bank "stress tests" have eased those worries.
In a speech about the financial challenges facing state governments, Bernanke said the economy should continue to grow at a "moderate pace" as businesses restock depleted inventories and consumer spending gradually resumes. However, the recovery faces "notable restraints," he said, such as high unemployment and weakness in the housing market.
Financial reform: Treasury Secretary Tim Geithner is due to speak on Wall Street reform at New York University after the market closes.
Geithner will promise to press federal bureaucrats to swiftly translate a sprawling 2,300-page regulatory reform bill into clear new financial rules, according to excerpts of the speech released by the Treasury.
"We will move as quickly as possible to bring clarity to the new rules of finance," Geithner will say in the speech. "The rule writing process traditionally has moved at a frustrating, glacial pace. We must change that."
World markets: European stocks rallied Monday. The CAC 40 in France closed 3% higher. The FTSE 100 in Britain rose 2.6% and Germany's DAX added 2.3%.
Asian markets also rose. The Hang Seng in Hong Kong jumped 1.8%, the Shanghai Composite rose 1.3% and Japan's Nikkei gained 0.4%.
China's manufacturing sector is still growing, but the pace is starting to slow, according to data released over the weekend from the government-run China Federation of Logistics and Purchasing.
Currencies and commodities: The dollar was lower versus the euro and the British pound, but up against the Japanese yen.
U.S. light crude oil for September delivery rose $2.51 to settle at $81.46 a barrel.
COMEX gold's December contract edged up $1.50 to close at $1,185.40 per ounce.
Bonds: Treasury prices fell, pushing the yield on the 10-year note up to 2.96% from 2.90% late Friday. Bond prices and yields move in opposite directions.