Stocks set for a boost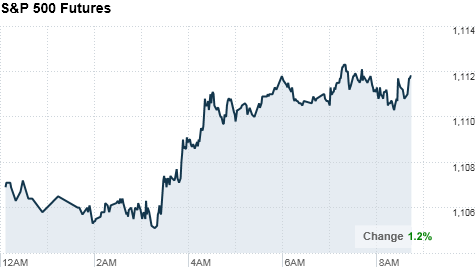 NEW YORK (CNNMoney.com) -- U.S. stocks were set to start August with gains at Monday's open on the back of an overseas rally.
Dow Jones industrial average (INDU), S&P 500 (SPX) and Nasdaq (COMP) futures were all up more than 1%.
Futures measure current index values against perceived future performance.
Despite a mixed performance Friday, stocks posted their best monthly gain in a year in July following solid second-quarter results from several U.S. companies.
But with several key reports due out this week, including the government's jobs report, investors are likely to shift their attention from corporate earnings to the economy.
"Markets have discounted the earnings season, which was better than expected, and this week the attention will turn to the economy, particularly the July jobs report due Friday," said Peter Cardillo, chief market economist at Avalon Partners.
"If economic numbers stabilize, improve and come in line with expectations this month, that will alleviate fears of a double-dip recession and we'll be able to focus on the economy's slow growth," he added.
Economy: Two reports on tap Monday are the Institute for Supply Management's survey on nationwide manufacturing activity and a report on construction spending.
Economists surveyed by Briefing.com project that U.S. manufacturing grew at a slower pace in July, with the index falling to 54.2 from 56.2 the prior month. Any number over 50 signifies growth in manufacturing.
Economists expect that construction spending fell 0.8% in June, following a 0.2% dip in May, according to the Briefing.com consensus.
Bernanke: Federal Reserve Chairman Ben Bernanke is due to speak about the challenges for the economy and state governments. Bernanke rattled investors last month when he said there was an "unusually uncertain" future for the economy.
Financial reform: Treasury Secretary Tim Geithner will be in New York to discuss financial reform. He is due to give a speech at New York University.
Companies: Stocks to watch include BlackBerry maker Research in Motion (RIMM). The United Arab Emirates has decided to ban the Web operations of more than a half-million BlackBerry users due to security issues. Shares of the company were down 1.2% in pre-market trading.
HSBC (HBC), Europe's biggest bank, said Monday that its earnings more than doubled in the first half of the year. The bank's profit climbed to $6.76 billion during the first six months of the year, up from $3.35 billion in the same period a year earlier.
Shares of the London-based bank rose 4.7% in pre-market trading.
World markets: European stocks rallied Monday. The CAC 40 in France and the FTSE 100 in Britain both surged about 2%. Germany's DAX added 1.7% in the afternoon.
Asian markets also rose. The Hang Seng in Hong Kong jumped 1.8%, the Shanghai Composite rose 1.3% and Japan's Nikkei gained 0.4%.
Currencies and commodities: The dollar was lower versus the euro and the British pound, but up against the Japanese yen.
U.S. light crude oil for September delivery rose $1.94 to $80.89 a barrel.
COMEX gold's December contract edge up $1.70 to $1,185.60 per ounce.
Bonds: Treasury prices fell, pushing the yield on the 10-year note up to 2.94% from 2.90% late Friday. Bond prices and yields move in opposite directions.