Stocks headed lower after jobs data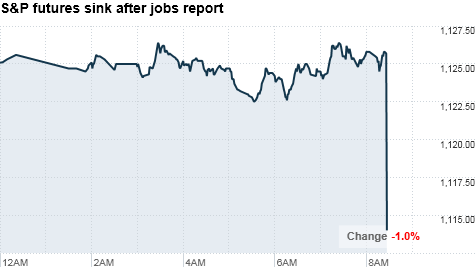 NEW YORK (CNNMoney.com) -- Stocks were headed lower Friday as nervous investors digested a worse-than-expected government jobs report.
Dow Jones industrial average (INDU), Nasdaq (COMP) and S&P 500 (SPX) futures reversed early gains and fell almost 1%. Futures measure current index values against perceived future performance.
Stocks ended a listless session modestly lower Thursday as investors focused on the job market amid signs of a sluggish economic recovery.
"We've had a recent spate of soft economic data, but stocks were building a crescendo toward this jobs data," said Mark Luschini, chief investment strategist at Janney Montgomery Scott. "This payroll number gives investors a reason to pause."
Traders were anticipating signficant losses in temporary census works, but were hoping to see strength in private sector, which only added 71,000 jobs last July.
"The direction for the private sector is positive, but the gain is not robust enough at this point in the recovery," Luschini said.
He added that in order for the economy to regain health, private employers need to be adding 125,000 jobs each month.
Jobs: The Labor Department reported that the economy lost 131,000 jobs last month, as the government shed 143,000 temporary workers hired for the decennial census. Economists polled by Briefing.com were expecting 87,000 job losses during the month.
The report showed that private sector added 71,000 jobs, less than the 83,000 gain economists were looking for.
The unemployment rate was unchanged at 9.5%. It was forecast to rise to 9.6%.
Investors were also disappointed by the revision to the losses in June. The report showed that the economy lost 221,000 jobs in June, far more than the 125,000 the government previously reported.
Companies: Fannie Mae said it lost $1.2 billion in the second quarter, down significantly from an $11.5 billion loss in the prior quarter. The government-run mortgage finance company said that its financial condition has vastly improved over previous quarters, but it still requested more government assistance.
AIG (AIG, Fortune 500) reported a quarterly net loss of $2.7 billion due to the sales of some of its divisions, a continuation of its restructuring following its disasterous losses. But its income from continuing operations more than doubled. Shares of the insurer spiked more than 5% in pre-market trading.
World markets: Shares in Europe headed higher in afternoon trading. Britain's FTSE 100, Germany's DAX and France's CAC 40 were all up.
Asian markets ended mixed. The Shanghai Composite jumped 1.4% and the Hang Seng rose 0.6%, but Japan's Nikkei slipped 0.1%.
Currencies and commodities: The dollar rose versus the euro, the British pound and the Japanese yen.
U.S. light crude oil for September delivery fell 73 cents to $81.27 a barrel.
COMEX gold's December contract rose $8.60 to $1,207.90 per ounce.
Bonds: Treasury prices turned higher Friday. The 10-year note's yield fell to 2.87% from 2.91% late Thursday. Bond prices and yields move in opposite directions.