Wall Street: A 'huge' week ahead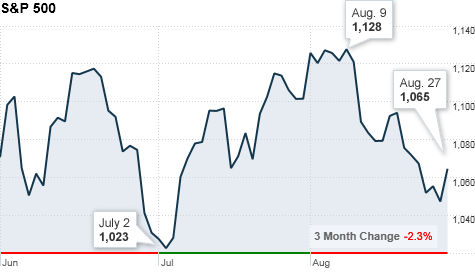 NEW YORK (CNNMoney.com) -- It may be the end of August, but the summer doldrums aren't over yet.
With all signs pointing to sluggish economic growth, a weak housing market and a lagging recovery, investors should buckle their seat belts for another rocky ride next week.
After jumping 7% in July, stocks are down more than 3% so far this month, and the major indexes edged lower again last week. Since the end of May, the Nasdaq has lost 4.6%, the S&P 500 is down 2.3% and the Dow is barely changed, ticking up 0.1%.
Why the slump? As excitement about strong corporate earnings fades, investors are turning their attention to the economy. And they aren't liking what they're seeing.
"Now that earnings have tapered off, all we're getting is bad news, bad news and more bad news," said Rob Russell, president of financial planning firm Russell & Company. "We don't seem to be headed in a good direction."
Last week, a fresh batch of lousy economic data sent stocks into the red as investors ran for the exits during three out of five days last week.
Following two disappointing reports showing dramatic plunges in home sales earlier in the week, the government said Friday that gross domestic product, the broadest measure of economic activity, was revised sharply lower in the second quarter.
But investors have been so far down in the dumps, it may not take much to lift their spirits. Because the GDP reading came in slightly better than expected, stocks managed to end the session on a positive note, rallying more than 1% on the news.
"At this point, investors are looking for any little bit of a positive sign they can get in the wake of all this poor economic data," said Russell. "It seems that 'less bad' is the new 'good.' "
Given the ongoing uncertainty about the economy's health, trading is likely to remain choppy for the next several weeks, even as summer ends and investors return to their desks.
But for now, the government's closely watched jobs report, along with a reading on consumer confidence and more manufacturing data due next week, will all give investors an idea of what's to come this fall, and either add fuel to the fire or calm some fears about an economic slowdown.
"Next week is going to be huge," said Peter Boockvar, chief market strategist at Miller Taback & Co. "We've been in a real summer slump and are at the mercy of these daily economic data points to see whether it looks like post-Labor Day we'll actually be able to start coming out of this economic malaise."
On the docket
Monday: A government report on personal income and spending is due before the opening bell. Economists surveyed by Briefing.com expect income to have edged up 0.2% in July after staying flat in June. Spending is forecast to rise 0.3% after ticking up 0.1%.
Tuesday: The Conference Board releases its Consumer Confidence index for August after the start of trading. Economists forecast the index to have edged down to 50 in August from 50.4 in July.
The Chicago PMI, a regional reading on manufacturing activity, is expected to have fallen to 57.5 in August from 62.3 in July.
The Case-Shiller 20-city home price index is expected to have risen 3.5% in June after rising 4.6% in May.
Wednesday: Before the market opens, payroll processing firm ADP is expected to report that private sector employers added 13,000 jobs in August after adding 42,000 in July.
Separately, outplacement firm Challenger, Gray and Christmas will report on planned job cuts.
After the start of trading, the Institute for Supply Management's (ISM) index of manufacturing is due. Economists forecast the index to have eased to 53 in August from 55.5 in July. Any number above 50 indicates growth in the sector.
Meanwhile, the government is expected to report that construction spending fell 0.7% in July, after slipping 0.1% in June.
Auto and truck sales are due throughout the day, and the government's weekly oil inventory report also is released Wednesday.
Thursday: The Department of Labor releases a weekly report on jobless claims before the bell. The number of Americans filing new claims for unemployment insurance is expected to have edged up slightly last week to 475,000 from 473,000 in the previous week. Continuing claims, a measure of Americans who have been receiving benefits for a week or more, are expected to have dropped to 4,435,000 from 4,456,000.
Meanwhile, the government is expected to report that pending home sales were unchanged in July after dropping 2.6% in June.
Factory orders are due from the Commerce Department in the morning. Economists forecast orders to have risen 0.3% in July after falling 1.2% in June.
The Commerce Department will issue a report on second-quarter business productivity, which is expected to be downwardly revised to a decline of 1.6% from the 0.9% drop that was initially projected.
Friday: The week ends with the government's widely anticipated monthly jobs report, which is forecast to show the U.S. economy lost 118,000 jobs in August after cutting payrolls by 131,000 in July. The unemployment rate is expected to tick up to 9.6% from 9.5%.
"Job creation is on everybody's mind," said Boockvar. "We know from all the earnings reports that businesses could hire boatloads of people tomorrow if they wanted to, but they're not doing it because there's so much uncertainty right now."
Separately, the ISM services index is expected to have slipped to 53.2 in August from 54.3 in July.