Stocks end day mixed, slightly higher for week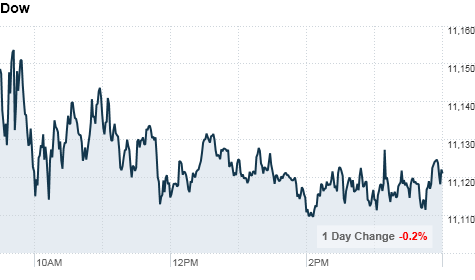 NEW YORK (CNNMoney.com) -- Stocks ended mixed Friday, but slightly higher for the week, as investors balanced strong U.S. corporate earnings against currency tensions at a summit of the world's major economies.
The Dow Jones industrial average (INDU) lost 14 points, or 0.1%, to end at 1,132.26. The S&P 500 (SPX) gained 3 points, or 0.2%, to settle at 1,183.08, and the Nasdaq (COMP) gained 20 points, or 0.8%, to end at 2,479.39.
Only 12 of the 30 blue-chip Dow index components ended higher Friday, while the tech-heavy Nasdaq got a moderate boost from strong earnings after Thursday's closing bell.
"Today's an especially slow day with a lack of economic data," said Stephen Carl, head equity trader at the Williams Capital Group. "The market is basically drifting ahead of more earnings and a lot of reports next week."
Over the week, the Dow and the S&P gained 0.6%, while the Nasdaq ticked up 0.4%.
Though domestic earnings generally have been strong this quarter, stocks were under some pressure Friday as investors remained concerned about issues abroad.
The two-day Group of 20 finance and central bank ministers meeting kicked off Friday in South Korea, with tensions about a so-called currency war brewing. U.S. officials have been pushing China to allow its currency, the yuan, to rise against the dollar and level the international export playing field.
In a letter to the G-20 ministers, Treasury Secretary Tim Geithner urged some developing countries to stop keeping their currencies artificially low, and to cap their surpluses or deficits to rebalance the world economy.
Stocks were coming off gains Thursday, as investors balanced strong earnings with heightened speculation that the Fed's next round of asset-buying won't be as dramatic as anticipated.
Companies: After Thursday's market close, Amazon (AMZN, Fortune 500) posted a 39% jump in sales and third-quarter earnings per share of 51 cents -- topping analyst expectations. The stock was up 2.7% in late trade Friday.
Also after the bell Thursday, Baidu (BIDU) -- China's leading search engine -- reported a profit that doubled in its most recent quarter on sales that soared 76% compared to last year. Shares jumped 6% Friday.
Shares of AIG (AIG, Fortune 500) rose 0.4% after reports said the company sold its Asian life insurance unit for $17.8 billion in a share offering Friday morning. AIG has said that it considers the sale of AIA -- one of its crown jewels -- to be a crucial component of its effort to repay the bailout it took from the U.S. government.
Honeywell (HON, Fortune 500) reported third-quarter sales rose to $8.4 billion, but earnings declined. Shares fell 1%.
Shares of Verizon (VZ, Fortune 500) fell 1.6% after the company reported third-quarter earnings per share of 31 cents, down from 41 cents per share a year earlier. The results included 25 cents per share in non-operational charges, much of which was related to pension settlements.
World markets: European stocks closed slightly lower. Britain's FTSE 100 and France's CAC 40 fell 0.3%, while the DAX in Germany lost 0.1%.
Asian markets ended the session mixed. The Shanghai Composite fell 0.3%, while the Hang Seng in Hong Kong fell 0.6%. Japan's Nikkei rose 0.5%.
Currencies and commodities: The dollar fell against the euro, the British pound and the Japanese yen.
Oil for December delivery gained $1.13 to settle at $81.69 a barrel.
Gold futures for December delivery fell 50 cents to settle at $1,325.10 an ounce.
Bonds: The price on the benchmark 10-year U.S. Treasury fell, pushing the yield up to 2.56%.