Stocks drift, end in stalemate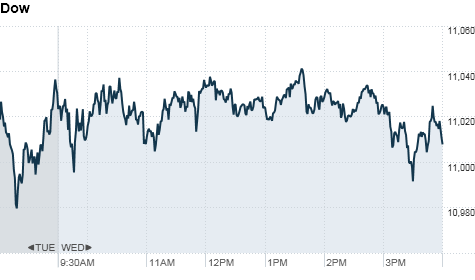 NEW YORK (CNNMoney.com) -- Stocks ended mixed Wednesday after trading in a narrow range for most of the day as investors weighed inflation and housing reports ahead of GM's initial public offering.
The Dow Jones industrial average (INDU) fell 15 points, or 0.1%, to close at 11,007. The S&P 500 held (SPX) closed just above the breakeven point at 1178. The tech-heavy Nasdaq (COMP) rose 7 points, or 0.3%, to close at 2,476.
Home Depot (HD, Fortune 500) and Hewlett Packard (HPQ, Fortune 500) were the biggest losers on the Dow. But Caterpillar (CAT, Fortune 500), McDonald's (MCD, Fortune 500) and Travelers (TRV, Fortune 500) all bucked the trend.
After the market closed, General Motors priced its highly-anticipated initial public offering. Shares will hit the market Thursday morning at $33 apiece, the automaker said.
The offering is expected to raise $20 billion, making it the largest in history.
The mixed performance on Wall Street came after government reports showed consumer prices held near historic lows in October, while new home construction was weaker than expected in the month.
Some traders said the inflation data mean the Federal Reserve has additional leeway to support the economy and asset prices. But others worry that inflation is too low, and that the central bank's actions could drive prices higher as money flows into commodities markets.
"The CPI is too close to zero for comfort, it's not what we'd like to see at this point," said Paul Zemksy, head of asset allocation at ING Investment Management.
In addition, worries about the European sovereign debt crisis have resurfaced this week, taking many market participants by surprise. European Union leaders and officials from the International Monetary Fund gathered in Dublin on Wednesday to discuss ways to support the troubled Irish economy.
"Over the last few months the markets had hoped that the sovereign debt issue had gone away," said Bruce McCain, chief investment strategist with Key Private Bank. "Ireland is making it more than apparent that it hasn't."
After a strong rally in September and October, investors said a pause in the market was not surprising, given the lack of a positive catalysts and renewed jitters.
"We've run up quite a bit off the June low, people are feeling a bit exposed with all these problems that have sprung up," said McCain.
Thursday brings the government's weekly tally of initial jobless claims and a report on manufacturing activity in the area around Philadelphia.
Stocks fell sharply Tuesday on concerns about economic developments in Europe and China. All three major indexes fell nearly 2%, and the day's losses put stocks on track to post their first down month since August.
Economy: The Consumer Price Index, a key measure of inflation, increased 1.2% over the past 12 months ending in October, the government said.
After stripping out volatile food and energy prices, the core CPI rose 0.6% on an annual basis -- the smallest annual price increase since the government started recording the data in 1957.
On a monthly basis, CPI rose 0.2% in October. Economists surveyed by Briefing.com had expected a 0.3% uptick. The increase was largely due to an increase in energy prices, the report said. Core CPI was flat on a monthly basis, slightly lower than economists' forecasts for a 0.1% increase.
Another government report showed that housing starts fell 11.7% to an annual rate of 519,000 units in October. That was lower than expected. Housing starts were forecast to rose to a 600,000 rate in October.
Building permits, considered a leading indicator of construction activity, reached an annual rate of 550,000 units in October. This was less than the projected rate of 570,000, but more than September's annual rate of 547,000.
Companies: Shares of NetApp (NTAP) fell over 6% before trading was halted late Wednesday after parts of its quarterly report were leaked.
The data storage company said it earned 52 cents per share in its second quarter on sales of $1.2 billion. Analysts had expected earnings of 49 cents and sales of $1.19 billion, according to Thomson Financial.
NetApp shares rose 1.4% in after hours trading.
After the market closed, Applied Materials (AMAT, Fortune 500) reported net income of $468 million, or 36 cents per share, for its fourth quarter. Analysts surveyed by Thomson Reuters had expected 31 cents per share.
Earlier, discount retailer Target (TGT, Fortune 500) reported a third-quarter, earnings-per-share increase of 28.5%, to 74 cents per share from 58 cents per share in the same period a year earlier. Shares of Target shares rose 3.3%.
World markets: European stocks closed higher. Britain's FTSE 100 added 0.2%, the DAX in Germany gained 0.5% and France's CAC 40 rose 0.8%.
Asian markets ended mixed. The Shanghai Composite lost 1.9% and the Hang Seng in Hong Kong dropped 2%, while Japan's Nikkei gained 0.2%.
Currencies and commodities: The dollar slid against its main trading partners, including the euro, British pound and the Japanese yen.
Oil for December delivery fell $1.61 to $80.73 a barrel.
Gold futures for December delivery slipped 90 cents to $1,337.50 an ounce.
Bonds: The price on the benchmark 10-year U.S. Treasury eased, pushing the yield up to 2.86% from 2.85% late Tuesday.