Stocks end November with a whimper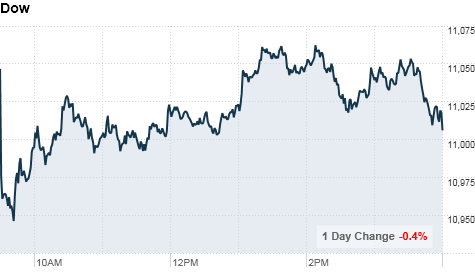 NEW YORK (CNNMoney.com) -- Stocks started November with a bang but ended it with a whimper, as all three major indexes closed the day and month lower on Tuesday.
A stronger-than-expected report on consumer confidence muffled some losses, but the market couldn't fully recover from a weak housing report and concerns about Europe's economy.
The Dow Jones industrial average (INDU) lost 46 points, or 0.4%, but remained barely above the 11,000 mark at 11,006.02. The S&P 500 (SPX) fell 7 points, or 0.6%, to close at 1,180.55, and the Nasdaq (COMP) dropped 27 points, or 1.1%, to end at 2,498.83.
It was a downbeat end to a month that started out strong. The Dow and Nasdaq shot to two-year highs in early November after the Republican success in the Congressional election and the Federal Reserve's announcement of a second round of economy-boosting asset purchases.
But U.S. markets have been whipsawed by overseas worries about debt-ridden European economies, including Ireland, Portugal and Spain. Late Tuesday, S&P said it put Portugal's long- and short-term credit ratings on watch.
The Dow fell by triple digits at Tuesday's open. But the market got a boost when the Conference Board's index of consumer confidence came in above forecasts.
"Clearly we're not seeing a complete breakdown, but cautiousness is definitely in the air," said Kenny Landgraf, principal and founder at Kenjol Capital Management.
"On the upside, the domestic market is much stronger than international markets," Landgraf added. "Europe concerns have really been prolonged, and it seems like new countries keep tacking on more worries."
Stocks ended lower Monday, although a late-session surge eased early losses.
Economy: The Conference Board's index of consumer confidence rose more than expected to 54.1 in November from a downwardly revised 49.9 in October. Economists expected the index to come in at 52.
The Case-Shiller index of home prices in 20 major U.S. markets brought bad news: Home prices fell 2% in the third quarter after mostly steady gains since early 2009. Economists expected prices to rise 1% in September, according to a consensus of economists by Briefing.com.
A measure of manufacturing in the Chicago area showed an unexpected uptick in the pace of activity this month. The Chicago PMI index ticked up to 62.5 in November from 60.6 in October. Economists expected a slight drop. Any index reading over 50 indicates expansion.
Late Tuesday, the co-chairmen of President Obama's debt panel said they will delay a vote on final recommendations until Friday. The panel will release a report Wednesday as originally scheduled.
World markets: Asian markets closed lower. The Shanghai Composite lost 1.6%, the Hang Seng in Hong Kong fell 0.7% and Japan's Nikkei dropped 1.9%.
European stocks ended mostly flat. Britain's FTSE 100 and the DAX in Germany were unchanged, but France's CAC 40 closed off by 0.8%.
Companies: Google's (GOOG, Fortune 500) stock ended down more than 4.5% after the European Commission said it will investigate whether the Internet search company violated antitrust rules. Search service providers allege that Google gives its own services preferential placement on searches.
News reports also said Google is looking to acquire the discount coupon retailer Groupon. The New York Times' DealBook blog reported Google may be bidding as much as $6 billion for Groupon.
Currencies and commodities: The dollar was up against the pound and the euro, but it fell against the yen. Investors tend to move toward the dollar as a safe haven during times of economic uncertainty.
Oil for January delivery fell $1.62 to settle at $84.11 a barrel.
Gold futures for January delivery rose $18 to settle at $1,384 an ounce.
Bonds: The price on the benchmark 10-year U.S. Treasury rose, pushing the yield down to 2.80% from 2.82% late Monday.