Markets close higher as oil passes $90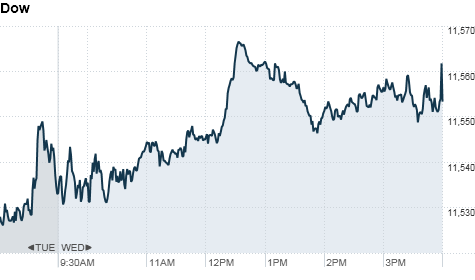 NEW YORK (CNNMoney.com) -- Stocks climbed to hit fresh two-year highs Wednesday, as investors begin to pack up for the holidays and prepare for 2011.
The Dow Jones industrial average (INDU) added 26 points to end 0.2% higher at 11,559.49 -- its highest level since August 28, 2008.
The S&P 500 (SPX) added 0.3% to end at its highest level since September 19, 2008. Meanwhile the tech-heavy Nasdaq (COMP) ticked up 0.2% to its highest settle since December 28, 2007.
The S&P 500 and the Nasdaq have posted gains for 14 of the month's 16 trading sessions so far. All three major indexes are positioned for double-digit gains for the year.
Oil prices were in the spotlight Wednesday after a weekly report showed crude stockpiles dropped by 5.3 million barrels last week. The report sent crude prices up to settle at about $90.48 a barrel. Oil prices haven't settled above $90 a barrel since October 2008.
Stock trading is expected to be light heading into the holiday season. But while there's little news on tap for the rest of the year, stocks have trended upward. Bank stocks were the bright spot Wednesday, with Bank of America (BAC, Fortune 500) and JPMorgan (JPM, Fortune 500) each ending about 3% higher.
"It's a non-event day for the market," said Sal Arnuk, co-head of trading at Themis Trading. "But it's been a great year. So for most of December, traders have been locking in their performance for 2010."
Investors are feeling bullish for 2011, Arnuk said, as economic numbers have begun improving. But they're still waiting for corporations to spend the cash they have sitting on balance sheets by hiring new workers.
On Tuesday, the major indexes rose modestly but managed to close at their highest levels in more than two years. Also on Tuesday,Congress approved a temporary spending bill late Tuesday that will fund the government for another 10 weeks.
Economy: The Commerce Department said the economy grew 2.6% in the third quarter -- slightly more than the 2.5% previously reported. The third and final take on third-quarter gross domestic product (GDP) was slightly less than the 2.7% expected by economists.
After the opening bell, National Association of Realtors' monthly report said sales of previously-owned homes jumped 5.6% in November to an annual rate of 4.68 million. The rate was down 27.9% from 12 months earlier.
Companies: Before the opening bell, Walgreen Co. (WAG, Fortune 500) reported record quarterly earnings and sales for the first quarter of fiscal year 2011. Earnings per share rose 62 cents for the quarter ended Nov. 30 -- blowing past analyst expectations of 54 cents. The pharmacy's profits jumped 18.8% to $580 million, up from $489 million in the same quarter a year ago. Shares of Walgreen ended 5.5% higher.
American Airlines severed its relationship with online travel site Orbitz after an Illinois court said the airline could cancel its contracts. Shares of its holding company, AMR Corp. (AMR, Fortune 500), fell 1.2%.
World markets: European stocks ended mixed. Britain's FTSE 100 added 0.5%, the DAX in Germany lost 0.1% and France's CAC 40 fell 0.2%.
The U.K.'s GDP growth was revised down to 0.7% in the third quarter -- down from 0.8% previously published, according to the Office for National Statistics in the United Kingdom. Even though the country's economic output was revised slightly lower, it remained 2.7% higher than the same quarter last year.
Asian markets ended the session mixed. The Shanghai Composite fell 0.9% and Japan's Nikkei shaved 0.2%, while the Hang Seng in Hong Kong added 0.2%.
Currencies and commodities: The dollar was down against the euro and the Japanese yen, and it was up slightly against the British pound.
Gold futures for February delivery fell $1.40 to settle at $1,387.40 an ounce.
Copper prices have been on a tear lately -- the metal is up nearly 30% this year. In particular, China's booming economy consumes about 35% to 40% of the world's annual copper output.
Bonds: The price on the benchmark 10-year U.S. Treasury ticked lower, pushing the yield up to 3.34% from 3.33% late Tuesday.