Stocks rally for third day, Dow jumps 178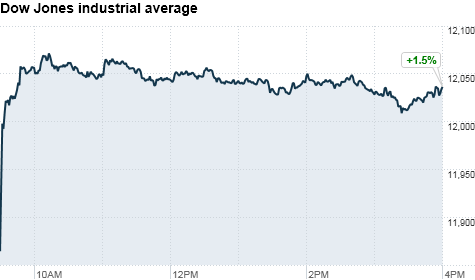 NEW YORK (CNNMoney) -- U.S. stocks rallied for a third day on Monday, as fears about Japan's damaged nuclear plants eased and investors cheered a huge merger in the telecommunications industry.
The Dow Jones industrial average (INDU) jumped 178 points, or 1.5%, to 12,037. It's the first time the Dow has closed above the 12,000-point mark since the day of the Japanese earthquake on March 11.
The S&P 500 (SPX) index added 19.2 points, or 1.5%, to 1,298; and the tech-heavy Nasdaq (COMP) gained 48 points, or 1.8%, 2,692.
Stocks spiked at the open Monday, and remained steadily higher throughout the session.
Investors rallied on positive news regarding Japan's nuclear crisis, as well as AT&T's $39 billion deal to acquire T-Mobile USA. Shares of AT&T (T, Fortune 500) and Verizon Communications (VZ, Fortune 500) closed up more than 1%, although both companies pared back some of their earlier gains.
"Mergers are always a shot of adrenaline for investors, because it shows that corporate insiders still see value, despite this two-year bull market," said Fred Dickson, chief market strategist at D.A. Davidson & Co.
Shares of AT&T's smaller competitor Sprint Nextel (S, Fortune 500), which had been reported to be in talks with Deutsche Telekom, fell 14%, making it the worst performer on the S&P 500.
Aside from corporate news, investors continue to react to developments in Japan and Libya.
Over the weekend, Japanese engineers made progress in cooling nuclear reactors that had overheated, following the devastating earthquake and tsunami that struck the country March 11.
Meanwhile, turmoil in North Africa heated up. The United States and its allies launched an airstrike on Libyan military targets Monday, in an effort to subdue forces of Libyan leader Moammar Gadhafi.
Oil prices jumped more than $1 a barrel in electronic trading, following the attack. (CNN.com coverage of Libya)
"The fear of a Middle East contagion and a horrible nuclear calamity in Japan has abated, and the good news is that the economy and market fundamentals have returned to the forefront," said Paul Zemsky, head of asset allocation with ING Investment Management.
U.S. stocks ended higher Friday, but the ongoing turmoil in Japan led indexes to end lower for the week.
Economy: The National Association of Realtors said existing home sales fell to an annual rate of 4.88 million in February, which was much lower than the 5.05 million most economists forecasted.
Companies: Citigroup (C, Fortune 500) shares fell 1.6% after the bank announced a 1-for-10 reverse stock split and said it plans to reinstate its quarterly dividend.
Tiffany & Co. (TIF) shares rose 5% after the luxury retailer reported a stronger-than-expected profit.
World markets: European stocks closed broadly higher. The DAX in Germany gained 2.3%, France's CAC 40 rose 2.5%, and Britain's FTSE 100 added 1.2%.
Asian markets ended higher. The Shanghai Composite ticked up less than 0.1%, while the Hang Seng in Hong Kong added 1.7%. Japanese markets were closed for a national holiday.
Currencies and commodities: The dollar gained against the euro and the Japanese yen, but was flat versus the British pound.
Gold futures for April delivery rose $10.30, or 0.7%, to $1,426.40 an ounce.
Bonds: The price on the benchmark 10-year U.S. Treasury fell, pushing the yield up to 3.35% from 3.26% late Friday.