Stocks fall for week as Japan weighs on markets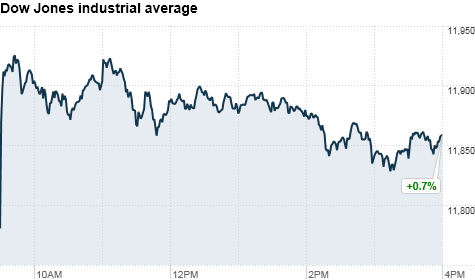 NEW YORK (CNNMoney) -- U.S. stocks rose for a second day in a row on Friday, as news of a cease-fire in Libya eased traders' concerns about developments in the Middle East. However, the ongoing turmoil in Japan led U.S. stocks to fall for the week.
The Dow Jones industrial average (INDU) climbed 84 points, or 0.7%, to 11,859; the S&P 500 (SPX) added 5.5 points, or 0.4%, to 1,279; and the Nasdaq Composite (COMP) rose 7.6 points, or 0.3%, to 2,644.
For the week, the Dow fell 1.5%, the S&P 500 lost 1.9% and the Nasdaq dropped 2.7%. While the Dow and S&P 500 remain modestly higher for the year, this week's declines have now put the Nasdaq down 0.4% year-to-date.
Stocks were higher throughout Friday's trading session as investors welcomed two pieces of encouraging news: Libya's cease-fire and the G7's Japanese yen intervention plan.
The financial sector kept the momentum going, after the Federal Reserve gave the green light for several big banks to raise dividends and buy back shares. Among the firms to announce dividend hikes were JPMorgan Chase (JPM, Fortune 500), Wells Fargo (WFC, Fortune 500) and USBancorp (USB, Fortune 500), which each saw their shares climb.
The Libyan government announced an immediate cease-fire after the United Nations voted to impose a no-fly zone over the country. However, witnesses in the besieged city of Misrata told CNN a fierce pro-government assault was persisting.
Oil prices, which had ticked higher on the U.N. vote, turned lower after the cease-fire announcement. Crude prices fell 25 cents to $101.15 a barrel. Earlier in the session, prices neared $104.
And while Japan continues to struggle with its nuclear power plants, the Group of Seven major economic powers announced a coordinated intervention to prevent the Japanese yen from rising further. The announcement helped the yen ease and boosted the Nikkei 2.7%.
"It's good to see leaders acting to provide stabilization in the currency market -- it gives the market confidence," said Anthony Conroy, head trader with BNY ConvergEx.
The Japanese yen had been driven sharply higher in recent days by global uncertainty and the prospect of more cash flowing into Japan.
Because Japan is heavily reliant on exports to drive its economy, a strong yen would put a difficult headwind against what is already a struggling economy, said Bill Stone, chief investment strategist with PNC Financial.
"A little weakness in the yen would be a good thing," Stone said.
U.S. stocks closed broadly higher Thursday, rebounding after two days of sharp declines.
World markets: European stocks closed higher. Britain's FTSE-100 added 0.4%, the DAX in Germany notched up 0.1% and France's CAC 40 gained 0.6%.
Aside from the Nikkei, other Asian markets ended higher. The Shanghai Composite rose 0.3% and the Hang Seng in Hong Kong added less than 0.1%.
Companies: Cisco (CSCO, Fortune 500) shares rose 0.8% after the company announced a new 6 cents-a-share dividend.
Nike (NKE, Fortune 500) shares tumbled 9% after the company reported disappointing earnings and said it would raise prices on many of its products because of higher commodity prices.
Celera (CRA) shares soared 34% Friday after Quest Diagnostics (DGX, Fortune 500) announced it would buy Celera for $344 million, or $8 a share.
Shares of tax-software maker Intuit (INTU) rose 3% after the company said that the number of users of its TurboTax software jumped 7% compared to a year ago.
Currencies and commodities: The dollar fell against the euro, but gained versus the British pound.
Gold futures for April delivery rose $11.90, or 0.8%, to trade at $1,416.10 an ounce.
Bonds: The price on the benchmark 10-year U.S. Treasury rose, pushing the yield down to 3.26% from 3.27% late Thursday.