Dow ends week at nearly 3-year high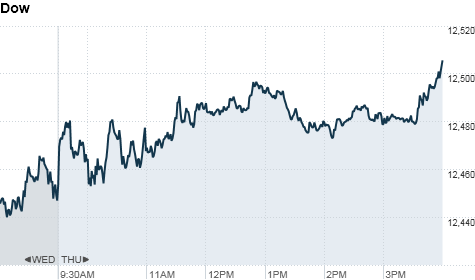 NEW YORK (CNNMoney) -- U.S. stocks advanced for a third straight session Thursday, with the Dow closing at almost a 3-year high following a slew of strong earnings.
But disappointing readings on regional manufacturing and the labor market kept a lid on the gains, reminding investors that the economy is still fragile.
The Dow Jones industrial average (INDU) added 52 points, or 0.5%, to end at 12,505.99, its highest level since June 2008. The gains were led by a nearly 4% surge in shares of Travelers (TRV, Fortune 500), while IBM's (IBM, Fortune 500) and Alcoa's (AA, Fortune 500) stocks rose about 2%.
The S&P 500 (SPX) rose 7 points, or 0.5%, with shares of Biogen Idec (BIIB, Fortune 500) and SLM (SLM, Fortune 500) jumping about 15%. Biogen delivered a strong quarterly profit, while SLM, the student loan lender known as Sallie Mae, reinstated its quarterly dividend after four years and authorized a $300 million share repurchase programs.
The Nasdaq Composite (COMP) advanced 18 points, or 0.6%. Biogen Idec, F5 Networks (FFIV), Qualcomm (QCOM, Fortune 500) and Apple (AAPL, Fortune 500) were among the biggest winners on the tech-heavy index after posting healthy quarterly earnings. (Apple doubles its profit)
For the week, all three major indexes finished higher. The Dow and S&P 500 climbed about 1.3%, while the Nasdaq increased 2%. The stock markets are closed Friday in observance of Good Friday.
Thursday's gains were tempered by reports that showed a sharp slowdown in manufacturing activity in the mid-Atlantic region in April and lower-than-expected jobless claims.
The Philadelphia Federal Reserve said its manufacturing activity index dove to 18.5 from 43.4 the prior month. Economists were expecting the figure to drop to 33.
Even with the dampening effect of those economic reports, analysts say earnings will continue to be the main driver to push stocks higher.
About 70% of the companies in the S&P 500 have been beating Wall Street expectations quarter after quarter recently, noted Matt King, chief investment officer at Bell Investment Advisors.
Positive earnings also spurred a stock rally on Wednesday, with the Dow rising nearly 200 points and the Nasdaq climbing 2%, as Wall Street cheered solid earnings results out of the technology sector.
Companies: Shares of General Electric (GE, Fortune 500) dropped more than 2% Thursday. The Dow component's stock was higher at the start of trading after the company delivered solid first-quarter earnings and raised its quarterly dividend.
GE has been under pressure lately, facing criticism about its 2010 taxes and role in the nuclear crisis following Japan's March 11 earthquake. GE designed all six nuclear reactors at Japan's Fukushima Daiichi nuclear power plant.
Shares of Yum Brands (YUM, Fortune 500) climbed more than 4% after the fast food operator posted higher first-quarter earnings on rapid growth in China.
Morgan Stanley's (MS, Fortune 500) stock spiked 1.7% after the bank beat estimates with its first-quarter profit.
World markets: European stocks closed mixed. Britain's FTSE 100 slipped 0.1%, but the DAX in Germany rose 0.6% and France's CAC 40 gained 0.4%.
Asian markets ended higher. The Shanghai Composite rose 0.7%, the Hang Seng in Hong Kong added 1% and Japan's Nikkei advanced 0.8%.
Currencies and commodities: The dollar fell against the euro, the Japanese yen and the British pound.
Oil for June delivery rose 84 cents to settle at $112.29 a barrel.
Gold futures for June delivery settled at a record $1,503.80 an ounce, after rising to an intraday trading record of $1,509.60.
Bonds: The price on the benchmark 10-year U.S. Treasury was unchchanged, and the yield held steady at 3.40%.