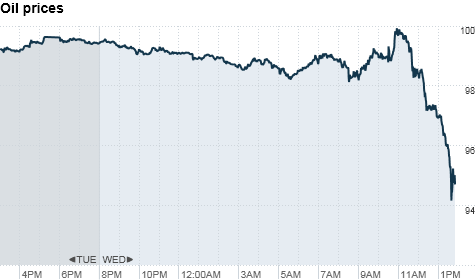 Click chart to track oil and other commodity prices.
NEW YORK (CNNMoney) -- Oil prices plunged more than 4% Wednesday to their lowest level in nearly four months, as fears over Greece's debt issues pushed both stock and commodity prices broadly lower.
Oil prices closed down $4.56, or 4.6%, to $94.81 a barrel, its lowest close since Feb. 18.
Crude prices took their cue from the stock market, where Wednesday's sell-off sent the Dow down more than 200 points..
"The speculators are running for the door," said James Cordier, president of Liberty Trading Group.
Oil has been in somewhat steady decline for weeks now after hitting more than $110 a barrel earlier this year.
Cordier said that as long there continue to be signs that the U.S. economy is slowing down, and large oil consuming nations such as India and China are taking measures to stem inflation, prices should continue to trend lower.
"The commodity bubble burst 30 days ago," Cordier said. "We're are looking at $80 to $85 a barrel oil after driving season ends [after Labor Day] if these trends continue."