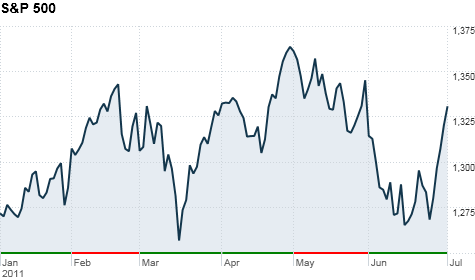 It's been a rocky six months and investors should expect more of the same over the next six months. Click chart for more market data.
NEW YORK (CNNMoney) -- Commentary: Mark Luschini is the chief investment strategist at Janney Montgomery Scott.
It's been a rough year for stocks. After getting off to a solid start, markets have spent the better part of the last couple of months digesting a spate of mushy economic data.
From weak jobs to worries about U.S. debt, not to mention the eurozone issues, investors have had to steel themselves against what might come next.
The biggest worry plaguing markets right now is just how long the U.S. economic slowdown might last.
For one thing, job growth is key to this recovery. Last month, the Labor Department reported a measly 54,000 new jobs were created in May. And that does not help build confidence.
Especially since the year started off so well, with job growth tracking on a 220,000 monthly pace.
With the consumer driving 70% of our country's economic activity, the desire to buy a house, go out to eat, buy a shirt or car, or anything else for that matter, is predicated upon having a job and a steady paycheck.
Looking ahead, job creation will regain some momentum as companies hire to support their growth. Unfortunately, it may come far too slowly than anyone would like.
On top of that, most people have more of their wealth tied to their home value than their portfolio, even as stocks have staged a two-year comeback. So far, home prices have failed to respond to the recovery even as houses in many areas have become very affordable, and mortgage rates slide near 50-year lows.
Once again, it all comes down to jobs.
If we have repeats of May's labor report in the coming months, home prices will probably fall further which won't help consumers feel any better about spending than they do now.
It's also difficult to pinpoint the impact on the economy from the first quarter's spike in oil prices, the Japanese tragedy, and the unsettled weather conditions. But it did hurt...so things can only get better from here as long as we don't have a repeat of those kinds of events.
Of course, risks from the Greek fiscal crisis and China's inflation struggles can't be ignored.
Greece finally got the vote it wanted to push ahead with austerity measure meant to keep that country from defaulting. But eurozone risks remain.
Meanwhile, China -- the world's growth engine -- is managing to strike the balance of growing while still tapping the brakes. That is important for a lot of countries, but particularly many in the emerging markets that rely on China's enormous appetite for commodities, such as cement, iron ore, rice, and soy beans.
That's because what these countries produce and export are exactly that which China needs. China slowing too much would crimp its demand for these things causing a slowdown around the world.
Investors have been discounting equity prices as concerns over the U.S. economic soft patch have risen and other threats, such as a Greek debt default or a hard landing in China, might materialize.
But profit growth remains healthy and Corporate America is in great shape. From an asset allocation standpoint, large, high quality, U.S.-based companies that offer rich dividends continue to present a compelling opportunity for both growth of capital and income.
The economy should muddle through this period without endangering the expansion, making other income-producing investments, such as corporate and municipal bonds, appealing as well.