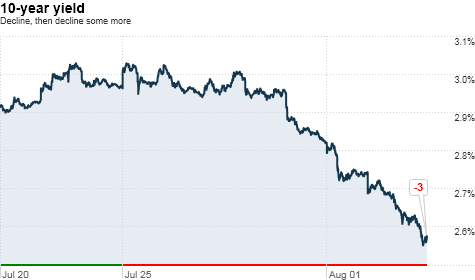 Click chart for more bonds and rates.
NEW YORK (CNNMoney) -- It's ugly out there.
Treasury prices have spiked -- then spiked some more, pushing the 10-year Treasury yield down to a nine-month low of 2.57% Tuesday.
To put that move in perspective, 10-year yields had been above 3% just last week.
A drop of that magnitude is rarely seen, but major debt news and a series of dour economic reports have sparked a flight to the safety of U.S. bonds.
"Europe is in crisis," said Kim Rupert, a fixed income analyst at Action Economics. "The fiscal and debt situation is getting worse by the minute."
Really, the eurozone worries are nothing new. But they never seem to end -- and could be getting worse.
Greece is the star of the show, while the cast of supporting characters continues to grow. Italy is the latest sovereign to be knocked by contagion fears.
On Wednesday, Italy's economy minister met with the eurozone chief to tackle concerns about the country's debt. They both called the meeting "fruitful," according to Italian news agency ANSA.
Italy is the largest economy yet to be dragged into the danger zone. And that has unnerved investors, who are responding by gobbling up Treasuries.
The other problem? A batch of economic data that indicates economic growth is slowing, both in the U.S. and abroad.
Just Wednesday, manufacturing data and durable goods orders disappointed, following a lackluster GDP report from the government late last week.
Markets are clearly nervous. On Tuesday, the Dow registered its 8th consecutive daily decline -- a losing streak not seen since October 2008. With the Dow off 1% on Wednesday, stocks were poised to continue that losing streak.
While equity markets have declined, Treasuries have spiked. But Rupert said an extra factor is moving yields lower: The end of the debt ceiling debate.
U.S. debt is usually thought of as one of the safest investments around. But during the debt ceiling fight, fearful investors avoided Treasuries.
Now that the risk of default has lifted, investors are flocking back to the safe-haven asset, and putting further pressure on yields, Rupert said.