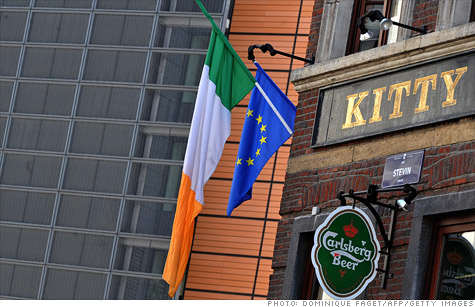 Irish voters will go to the polls Thursday to weigh in on the European Union's fiscal treaty.
NEW YORK (CNNMoney) -- As Europe scrambles to keep up with a resurgent debt crisis, Ireland will put a key agreement on fiscal discipline to a popular vote.
Ireland will hold a referendum Thursday on the fiscal compact that most European Union leaders signed in March. The vote comes as Spain faces new challenges in the banking sector and Greece remains without an elected government.
The latest polls suggest that Irish voters will approve the more stringent budget rules, although analysts say the outcome is far from certain given the large number of undecided voters.
"The potential for a last-minute surprise should not be discarded," said Antonio Barroso, an analyst at political research firm Eurasia Group.
The stakes are high for Ireland, which could lose access to additional bailout funds if voters reject the treaty.
But a "no" vote in Ireland would not necessarily prevent the treaty from going forward. The agreement needs to be ratified by 12 eurozone governments to become binding.
Supporters say approving the treaty would help ensure financial stability in Ireland, warning that a rejection could lead to a renewed banking crisis and potentially force the nation out of the euro currency union.
Opponents argue that backing the agreement will result in additional cuts to public spending and cause economic hardship for Irish citizens who have already been living with austerity for years.
The fiscal compact, first announced in December, is designed to impose discipline in government finances. It includes a "balanced budget rule" that requires governments to keep deficits below 0.5% of gross domestic product, among other things.
Excluding costs associated with the bailout of Irish banks, Ireland's 2011 budget deficit was estimated at 9.4% of GDP, according to the International Monetary Fund.
Still, Ireland is widely seen as the "good student" among the eurozone nations that have fallen victim to the debt crisis. The IMF has approved Ireland's austerity measures during each quarterly assessment in 2011, allowing Dublin to receive installments from the €85 billion four-year bailout program agreed to in December 2010.
Investors are keeping an eye on the vote in Ireland, though they are mainly concerned about the uncertain political situation in Greece and the banking crisis in Spain, said Nick Stamenkovic, market strategist at RIA Capital Markets in Edinburgh.
"Most people seem to think it's better for them to stay within fiscal constraints of the compact, rather than risk a renewed banking crisis in Ireland," said Stamenkovic.