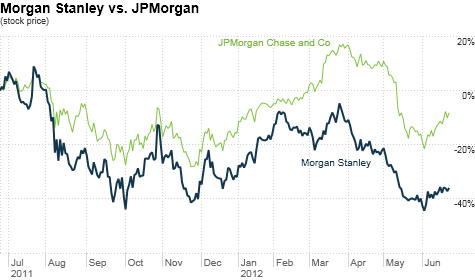 Bank stocks have had a rough year. Click chart for more market data.
NEW YORK (CNNMoney) -- Investors breathed a collective sigh of relief Friday that the downgrades of some of the world's largest banks wasn't as bad as it might have been.
The Moody's downgrade certainly wasn't good news for the banking industry, but there had been widespread fear that it would be much worse.
Bank stocks, which fell between 1.7% and 3.9% ahead of the downgrades, reversed course and rallied about 2% Friday.
Morgan Stanley (MS, Fortune 500), the bank subject to the largest potential downgrade, surged nearly 2%, after Moody's cut its credit rating by two, not the feared three, notches. But Moody's still categorized the bank as one of the weakest, along with Bank of America (BAC, Fortune 500) and Citigroup (C, Fortune 500).
JPMorgan (JPM, Fortune 500) fared best in the Moody's review. While downgrading the stock, Moody's deemed it one of the world's strongest banks.
Goldman Sachs (GS, Fortune 500) was just behind JPMorgan, in a group that Moody's said had "varying risk factors, ranging from high dependence on capital markets operations to limited liquidity and exposure to Europe."
Despite a positive response from investors Friday, there will be repercussions for the largest banks. Operating costs are expected to rise significantly, as borrowing costs are typically directly tied to credit ratings.
The downgrade also underscores the precarious state of the global financial system. Moody's made it clear in its assessment that banks still have the potential to rock global markets.
"All of the banks affected by today's actions have significant exposure to the volatility and risk of outsized losses inherent to capital markets activities," Moody's global banking managing director Greg Bauer said in a statement.
With the exception of Morgan Stanley, the other four major banks have all seen their stock prices rise in 2012, after clocking double digit losses in 2011. Shares of all the major banks currently trade far below pre-financial crisis prices.
BofA and Citi are now rated just two notches above junk status, while Morgan Stanley sits three notches above.
-- CNNMoney's James O'Toole contributed to this report.