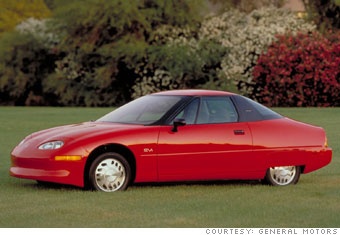 The EV1 looked very similar to the Impact, a GM concept car, but had thousands of improvements, according to GM engineer John Berisa.
GM introduced the EV1 in 1996 as a production version of a 1991 concept car called the Impact. It sold mostly in California, where state regulations at that time required manufacturers to offer a certain number of zero-emission vehicles.
Unlike electric vehicles offered by other automakers, the EV1 was not a retrofitted version of a gas-powered model. It was designed, from the wheels up, to be an electric car. Only two parts were carried over from any existing GM vehicle, said engineer John Berisa: the radio and the door handles.
Customers leased EV1's on a three-year basis. In 2003, after California changed rules that required the vehicles, GM took the leased vehicles back and stopped the program, as did other car companies.
Despite high hopes, the EV1 ended up being a money-loser for GM, said Berisa. The battery packs alone cost about $35,000 each to produce. (Getting consistent quality was a problem, he said.)
"The people who were leasing those cars for $350 a month were getting a killer deal," he said. "They just didn't know it."
GM's decision to end the EV1 later made the company infamous as the villain of the documentary, "Who killed the electric car?"

NEXT: Chevrolet S10 Electric

Last updated April 07 2009: 2:19 PM ET
Email
|
Print
|

Digg this story
|

RSS