General Motors' starts, stops and occasional short circuits on the road to the Chevy Volt.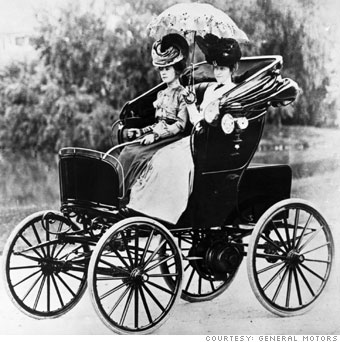 A product of the Olds Motor Co., this electric car was produced before Olds joined Buick in 1908, which was the start of General Motors.
Electric cars are not a particularly new idea. In fact, electricity seemed like a natural way to power early automobiles. The motors were quiet, clean and unlike gasoline or steam engines, they could be started with a button press.
The disadvantages were that electric cars lacked the range and speed of gas or steam cars, so they were marketed as the ideal choice for women since, it was said, they needed neither speed nor range just to run errands around town.
The problem for the electric motor was that little could be done to improve it. Meanwhile, gas engines became quieter and cleaner. General Motors tipped the balance towards gas-powered cars even further with its invention of the electric starter in 1911, which meant they no longer had to be hand-cranked to start.
GM didn't abandon the electric car altogether. In the past century, it's made several attempts to bring one market, so far with little success.
Materials from GM's extensive archives in Warren Mich. offer a look at the carmaker's various forays into electric drive over the past century. One might finally take off.
NEXT: GMC Electric trucks
Last updated April 07 2009: 2:19 PM ET
Email
|
Print
|

Digg this story
|

RSS