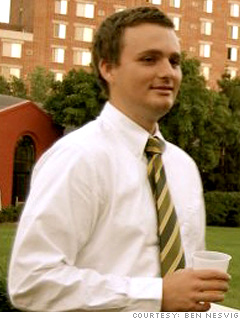 Name:
Ben Nesvig
Age:
23
Hometown:
Minneapolis, Minn.
Position interviewing for:
Marketing intern
My interview was scheduled for 7:30 a.m. on a Tuesday. I show up wearing a brand new suit, expecting to be there for an hour or so and then go on my way. After filling out a questionnaire, I am greeted by Donald, the man who will be interviewing me. Donald introduces himself and says that I will be shadowing him, getting a sense of what I would be doing.
He then says we will be traveling to St. Cloud, which is an hour away. This should have been my key to exit the interview. Wanting an internship so badly, I decided to just go along with it. During the entire ride to St. Cloud he grilled me with marketing questions.
Donald explains to me that we will be walking business to business selling (aka soliciting) pizza coupons and Minnesota Twins tickets. Our first stop was a dive bar at 9 a.m.. We carry on to a few random businesses while I awkwardly watch Donald attempt to sell pizza and Twins tickets. It was officially the most uncomfortable I've been on an interview.
The interview finished at 7 p.m. when we arrived back at their offices in Bloomington. In total, about a 12 hour interview. I turned down the job, but at least I got free Subway for lunch.
NEXT: Headhunting headache