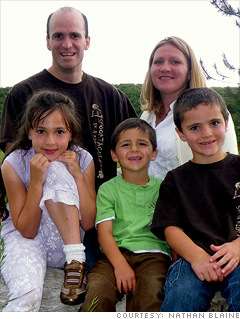 Nathan and his wife, Jennifer Blaine, both 32, live in Mantua, Utah, with their three kids.
What I pay:
$1,075 a month
Deductible:
$3,000 family
Insurer:
Altius
I currently have a high deductible HMO-style health plan provided by my employer. It costs me $75 per month and covers me, my wife and three children. I used to be on a lower deductible plan, but it was too much of a hassle to deal with the insurance company when I made claims.
Now I contribute $1,000 per month to a health savings account and enjoy the freedom of spending my own health care dollars. Providers treat me as the customer instead of the insurance company, but I do think they need to improve the disclosure of costs associated with health care procedures, consultations and supplies, including drugs.
What I want fixed: The government should get rid of employer-sponsored health insurance and give individuals tax deductions or credits instead. That way more people could afford health insurance and termination of employment wouldn't equate to termination of health insurance. The cost of insurance is hidden because employers pay for so much of it. Individuals would shop wisely for health services if they were paying for it.

NEXT: Jerri Theil: Self-employed