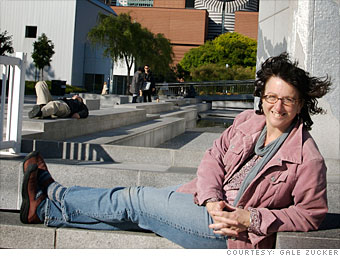 Gale Zucker's job is quite a balancing act.
Median pay:
$43,600
% who say their job is stressful:
100%
The job may sound glamorous, but commercial photographers, who capture models, merchandise and landscapes for books, advertisements and catalogs, have to contend with long days, picky personalities and demanding deadlines -- sometimes withstanding precarious positions just to get that perfect shot.
"One time I was doing a portrait of two guys who owned a construction company. The next thing I knew I was standing on this little catwalk under the Throgs Neck bridge [in New York City], dangling above the water because it gave me this great angle," said Gale Zucker, a photographer from Branford, Conn.
NEXT: Assisted living director
Last updated October 29 2009: 4:28 PM ET
Source:
PayScale.com
.
How
Payscale.com
defined high stress and low pay jobs: Starting from a database of over 2000 jobs, Payscale used data from over 36,000 respondents who ranked their jobs for quality of life factors, and chose those requiring a bachelor's degree or higher where the national median pay is less than $65,000. The survey was conducted between Aug 10, 2009 and Oct. 1, 2009.