Wireless Logic Bolt projector phone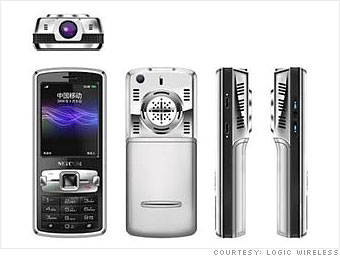 Pico projectors have spread fast: Many companies are figuring out neat ways to stick the technology into their units. Tucson, Ariz.-based Wireless Logic has very cleverly put a powerful, ultraportable projector into a mobile phone. The company claims it's the first cell phone in the world with an integrated projector, which may very well be true.
There's something compelling about the unit, when you see it live. Like shots from a camera phone versus those from a real digital camera, the projector phone's image quality doesn't compete with best standalone projectors. But there's real value in having a handy way to toss up a decent-sized image. Best of all, the phone can play a two-hour movie, which sort of changes the calculus of business air travel: You can put up an image of Blade Runner and sell tickets and headsets to those around you.
Suggested retail price: $600, or $100 with a two-year contract
http://tinyurl.com/axpgn6

More galleries