Pico projectors pack big imaging power into tiny devices. Want to carry around your own personal movie theatre? Check out these 6 pico gadgets, previewed at CES.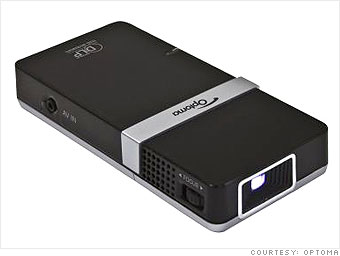 The PK-101 is the Barack Obama of electronics: It came out of nowhere at the end of 2008 to become
Time
magazine's
Gadget of the Year
. In the cold light of day at CES, against a ton of small-projector competition, the unit still holds up.
I like the elegant form factor, the decent display qualities, and the easy plug-and-play functionality. At less than four ounces, Optoma's PK-101 is smaller than most smartphones. Among picos, this unit currently sits in the pole position.
$399
optomausa.com
NEXT: WowWee Cinemin Swivel