More than 30 teams battled it out at the Rice Business Plan Competition for $800,000 in cash and seed money. Meet the 7 teams that dazzled the judges.
A credit card innovator cashes in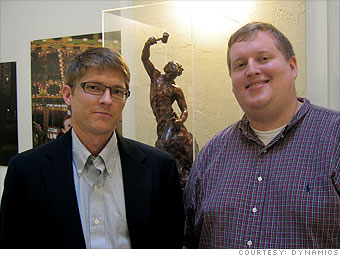 VP of Finance Andy Hicks and CEO Jeff Mullen
1st place:
Dynamics
School:
Carnegie Mellon University
In 2005, patent attorney and electrical engineer Jeffrey Mullen, CEO of Dynamics, had an idea that he believed would transform the credit card industry. Instead of programming credit cards' magnetic stripes to one identification number, what if companies were able to make a stripe that would support a changing number? In addition to reducing identity theft, such technology would allow credit card users to combine multiple cards on one piece of plastic, shifting their spending preferences for each transaction at the push of a button.
Credit card companies have been trying to refine their system for decades using PIN numbers and RFID chips, but haven't had much luck. With Mullen's technology, merchants wouldn't need to replace their credit card machines, which has been a major obstacle in the past.
"My initial takeaway was, 'Wow,'" says Rice judge and Compaq co-founder Rod Canion.
The Pittsburgh-based company already has seven full-time employees and is working with an undisclosed number of U.S. banks to bring its technology to market. Dynamics has also worked with venture capital firms, but Mullen declined to reveal how much capital it has already raised.
Dynamics took the competition's first place prize of $20,000 in cash and $305,000 in investments and services. In addition, the company landed the prestigious $100,000 Technology Award from Opportunity Houston (which it can collect only if it moves from Pittsburgh to Houston) and the coveted $125,000 investment prize from the GOOSE Society of Texas.
"The cash influx can expedite our various efforts," Mullen says.
Mullen's next goal is to compete in and win Moot Corp, an invitation-only business plan competition at the University of Texas at Austin that takes place in early May. -Emily Maltby

NEXT: Putting stars in NASA's eyes