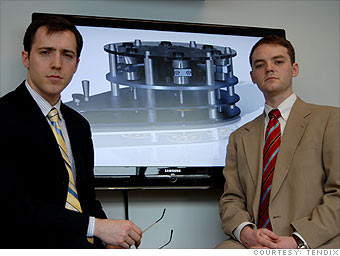 Levi Tillemann-Dick (left) and Corban Tillemann-Dick
3rd Place:
Tendix
School:
Johns Hopkins University
Tendix, which finished third at Rice and also received a $100,000 investment from venture capital firm DFJ Mercury, began three years ago as a father-sons project. Inventor Timber Dick had an idea for a fuel-efficient internal combustion engine. Together with his sons Levi, Corban and Tomicah, he began work on what would become the Internally Radiating Impulse Structure (IRIS) engine. When Dick passed away last year, his sons were determined to realize his vision.
"Since our father's death, we've done every single thing we could to make this a success," says Levi, who is head of business development. So far, so good. The IRIS holds four patents with 164 enforceable patent claims, and Tendix' advisers include Daniel Yergin, author of Pulitzer Prize-winner The Prize: The Epic Quest for Oil, Money, & Power, and former Daimler Chrysler COO Eric Ridenour. Levi and Corban headed to Rice with a prototype of the engine. (Though still involved with Tendix, Tomicah now works as a speechwriter for Hillary Clinton).
The brothers say they learned valuable lessons during the competition. The most important? "Know your audience," says Levi. He and Corban, who is head of technology development, were advised that the judges in oil-centric Houston were not "big enviro-freaks and might not even believe in global warming." Sure enough, certain Rice judges described global warming a "theory" on feedback forms. "We're sold on the idea of global warming," Levi laughs, but in future presentations Tendix learned to highlight the engine's power and deemphasize its environmental advantages.
Levi and Corban, who both speak Chinese and Spanish (Levi also speaks Portuguese and Japanese), believe the IRIS can help provide people around the world, and especially in developing countries, with cheaper, cleaner transportation. "This is a great business idea, and we have a personal imperative to develop it as part of our father's legacy," Corban says. -Adriana Gardella

NEXT: Prepping the VC pitch