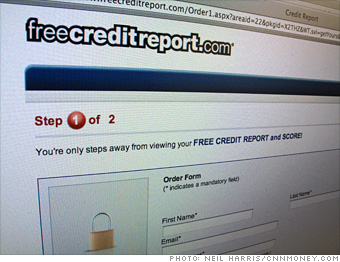 There's nothing free about forking over $179 a year for information at Freecreditreport.com.
Instead you can go to AnnualCreditReport.com, which is run by the Federal Trade Commission, and get a truly free report once a year from each of the credit agencies: Equifax, Experian and TransUnion.
Freecreditreport.com's catchy ditties can get stuck in your head for days -- but subscribing to the service will haunt your credit card bill for a year. When you sign up, you're asked for your credit card number. Then the site automatically enrolls you in its "Triple Advantage credit monitoring," which pledges to continuously track your credit status for $14.99 per month.
A rep for Experian, which owns Freecreditreport.com, says: "We do realize there are a very small percentage of consumers who genuinely do not understand they have signed up for a credit monitoring service. We work to resolve issues with these consumers on a case by case basis."
Technically, you have nine days to cancel the credit monitoring service before being charged, but many consumers have felt duped. The Better Business Bureau has received more than 11,000 complaints, and the site recently made its policy more prominent on its Web pages.

NEXT: Name-brand painkillers - 60% markup