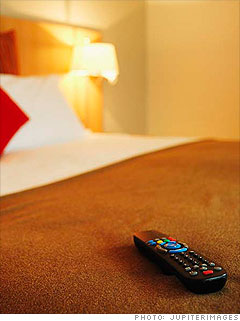 In addition to the overpriced mini-bar, in-room movies are another quick way you can jack up the cost of your stay without even leaving the hotel.
That's because there's a high premium on the convenience: You could find yourself paying anywhere from $10-$15 based on how new and popular the movie is, says a rep for LodgeNet, a company that provides hotel programming.
By comparison, Blockbuster rents DVDs for about $5. LodgeNet notes that some of its offerings are still in theaters and not yet available for home viewing.
So instead of shelling out money to sit in bed and watch "The Hangover" for the tenth time, bring your own DVDs. Many hotels include DVD players in the rooms and some will even let you borrow a unit.

NEXT