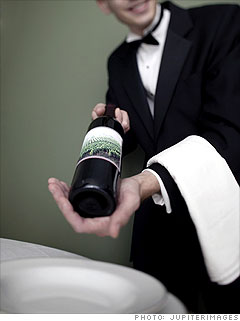 Ordering wine in a restaurant can cost six times as much as drinking the same bottle at home. At the Olive Garden in Manhattan's Times Square, a bottle of Sutter Home's White Zinfandel goes for $24 -- but it retails online for as little as $4 per bottle.
Restaurants mark up cheaper bottles by an average of three times the retail price, while the prices of higher end wines are typically doubled, says Ronn Wiegand, a master sommelier who runs the industry newsletter RestaurantWine.
For instance, a 1985 "La Grande Dame" Veuve Cliquot that goes for about $495 online is marked up 222% to $1,600 at the swank New York City restaurant Per Se. Olive Garden didn't return calls for comment, but for its part Per Se says: "The total cost of the wine and service is calculated up front...the beverage team sets the highest standards to be sure that the quality of the wine and experience exceeds our guests' expectations."
Think that's rough? Prices for wine sold by the glass are tripled or even quadrupled, Wiegand says, since restaurants have to account for the chance that they won't sell the whole bottle before it spoils.
At prices like that, guess we'll be skipping dessert.

NEXT: College textbooks - $900 a year!