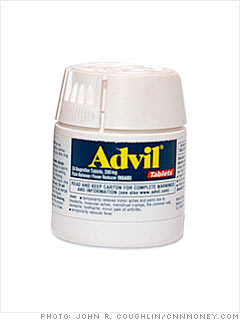 Is Advil's sleek design worth 60% more than the same medicine in a plain package?
A 50-count bottle of 200 mg Advil tablets costs $8.49, versus just $5.29 for the exact same bottle of generic ibuprofen at a Duane Reade drug store in New York.
Brand names may give us more peace of mind, but the cheaper stuff works just as well, and in exactly the same way. It's required to, by law.
The Food and Drug Administration mandates that generic drugs must be as safe and effective as brand names. Generics have to use the same active ingredients, however they may contain different inactive ingredients like coloring or flavor agents. For its part, the company says it "stand[s] firmly behind the value Advil brings to consumers."
But at a time when many of us are already feeling the pinch financially, a fancy package just doesn't seem worth the headache.

NEXT: Wine at restaurants - 500% markup