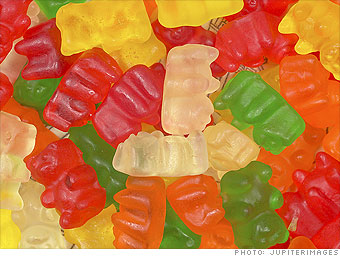 The chocolate bars and sodas in a hotel mini-bar can look alluring to tired and hungry travelers. But you'll rack up a huge bill if you open up that fridge. Gummy Bears for $14, anyone?
Oyster Hotel Reviews (oyster.com) sends senior editor Will Begeny to hotels across the country, undercover, to get the skinny on hotel stays -- and he's found some egregious examples of price-gouging. Across the board, items are usually marked up by 3-4 times the retail price.
Among his findings in Manhattan: a $10 pint of water at the Mansfield Hotel; $150 "wood-smoke" candles at the Gramercy Park Hotel; and a $12 toothpaste kit at W New York's The Tuscany.
"The minibar has turned into a sort of status symbol, especially for higher end hotels," Begeny says. "They'll include rarer products, like those candles, so people don't realize how overpriced they really are."
And yes, there really is a 1,300% markup on Gummy Bears at the luxury Manhattan hotel Omni Berkshire Place. None of these hotels returned requests for comment, but a rep for the American Hotel & Lodging Association said guests pay a premium for the mini-bar's convenience.
"People have started to realize this is a scam, that they can walk to a store a block away and spend half as much," Begeny says. "Of course, if hotels have to toss some of the older inventory because no one's buying it, they could mark it up even more."

NEXT: Hotel in-room movies - 200% markup