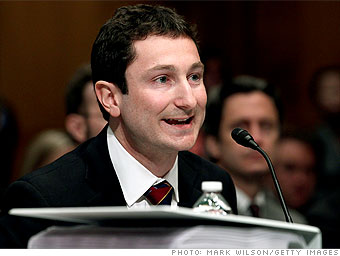 Executive Director, Structured Products Group
The young French trader known as "fabulous Fab" has soared to minor stardom since being characterized as the Goldman Sachs' rogue employee at the center of the SEC's allegations.
Tourre was responsible for structuring and marketing a complex securities package tied to subprime mortgages. Called ABACUS 07 AC-1, it's the transaction that the SEC says Tourre misrepresented to investors IKB Deutsche Industriebank AG and ACA Management.
In his statements prepared for the Senate subcommittee, Tourre denied the SEC's allegations.
"The last week has been challenging for me and my family, as I have been the target of unfounded attacks on my character and motives," his prepared statement said. "I wish to repeat -- I did not mislead IKB or ACA, two of the most sophisticated investors in these products anywhere in the world."
The Senate hearing was the first time Tourre publicly surfaced since the charges hit. Now an executive director at Goldman Sachs' London office, Tourre has been placed on indefinite paid leave and deregistered with Britain's regulatory agency, the Financial Services Authority.
The weekend before the hearing, Goldman Sachs released e-mails between Tourre and his girlfriend suggesting that he was fully aware that the complex financial packages he helped create would collapse.

NEXT: David Viniar