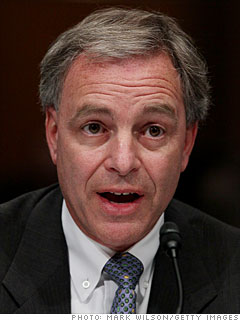 Chief Financial Officer
While not directly named in the SEC's charges, Viniar has been named in lawsuits brought by private investors over the past week. Why? Because he serves as Goldman's CFO, and in that role is responsible for risk management and financial controls within the company.
The litigious investors say that the company's top management, including Viniar, failed to disclose a Wells notice -- a letter the firm received from federal regulators in the summer of 2009 -- indicating that the firm's ABACUS transactions were being investigated.
In his remarks before a Senate subcommittee on Tuesday, Viniar said the firm began to notice a pattern of daily losses in its mortgage-related businesses in December 2006. He called a meeting of various Goldman Sachs employees at which they discussed reducing the firm's exposure to the residential housing market.
"For Goldman Sachs, weathering the mortgage market meltdown had nothing to do with prescience or 'betting' on, or against, anything," Viniar said. "More mundanely, it had everything to do with systematically marking our positions to market, paying attention to what those marks were telling us, and maintaining a disciplined approach to risk management, which we believe served the firm, our clients and our shareholders well during this extraordinarily challenging period."

NEXT: Craig Broderick