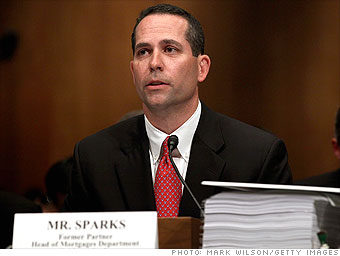 Former Managing Director and Head of the Mortgage Department
The boss of Fabulous Fab, Sparks was the head of the mortgage department at Goldman Sachs from late 2006 until mid-2008.
Testifying before the Senate subcommittee, Sparks reiterated Goldman's claims that up until late 2006, it took a long position -- meaning it had long-term investments -- on the residential mortgages market.
But during that time, the firm began to see a pattern of losses from these investments. In his prepared testimony, Sparks refers to the meeting called by Goldman CFO David Viniar, at which the decision was made to reduce the firm's exposure to the housing market.
"The take-away from the meeting was to reduce risk in the short term," Sparks told the Senate committee. "I was not instructed to 'go long' or 'go short.' The focus was on risk, not direction."

NEXT: Josh Birnbaum