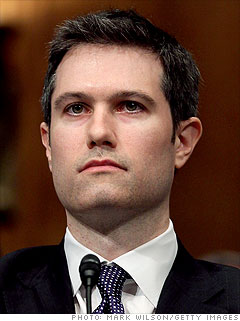 Former Managing Director, Mortgage Department
Like Fab, Birnbaum reported to Dan Sparks. The trader, who now owns his own advisory firm Tilden Park Capital Management, said he developed a negative view on the subprime market while working on the asset-backed securities desk at Goldman Sachs in 2006 and 2007.
In line with Birnbaum's view, the desk began betting against, or "shorting," mortgage-backed securities through an instrument called credit default swaps. These short positions profited as the housing market declined. Later, Goldman Sachs' management instructed him to reduce the firm's exposure to these trades.
"No one from senior management told me to make a directional bet against the subprime market. Rather, during the 2006-2007 period, regardless of whether our books were long or short, the consistent theme from management was to reduce risk in our books," Birnbaum said at Tuesday's hearing.

NEXT: Michael Swenson