Saving a city - one house at a time
A federal program offers billions to rescue communities from the plague of foreclosures. For states like Rhode Island, it's barely enough to go around.
Map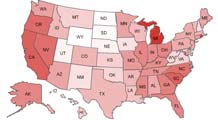 Providence, R.I. (CNNMoney.com) -- Suffering from one of the highest foreclosure rates in the nation, Rhode Island is getting nearly $20 million from Washington to rehabilitate neighborhoods most affected by the mortgage meltdown.
Unfortunately, the state needs many times that amount to deal with an escalating number of homes in foreclosure.
Rhode Island's struggle to contain its foreclosure crisis is a case study. The $3.92 billion Neighborhood Stabilization Program, passed by Congress last year, funds the acquisition and redevelopment of foreclosed properties into affordable homes for rent or purchase. But in many states, the problem outstrips the resources of the program.
In the Ocean State, 3.18% of loans, or about 4,460 homes, were in foreclosure at the end of the third quarter, which puts it 10th worst in the nation, according to the Mortgage Bankers Association.
That's why state officials were surprised that they received the small-state minimum -- the same as Wyoming, which has the lowest percentage of loans in foreclosure at 0.63%. Some had expected as much as $55 million, and Providence had hoped to get its own allotment.
"People were shocked," said Frank Shea, executive director of the Olneyville Housing Corporation, which is applying to rehabilitate up to 60 homes in the impoverished Providence neighborhood.
Rhode Island officials had some tough choice to make. They first had to determine which communities would receive funding. They looked for those with the highest foreclosure rates, largest expected increases in foreclosures and greatest number of subprime loans, as required by the federal Department of Housing and Urban Development.
Eleven municipalities fit the bill, said Noreen Shawcross, chief of the state's Office of Housing and Community Development, which is co-administering the grant. Providence, the state's capital, led the pack with 2,000 foreclosures and should receive $9.6 million.
Many questioned how the money was distributed. Officials say they tried to focus the spending where it would do the most good, but concede they needed more.
"We will not be able to attack all the neighborhoods that need funding," said Richard Godfrey, executive director of Rhode Island Housing, a public agency devoted to affordable housing that is co-administering the federal grant. "There isn't enough money to go around."
More help may be on the way. Officials are hoping to get additional funds from the Obama administration's national stimulus plan, a version of which contains $4.2 billion for stabilization.
How to spend the money
With only $19.6 million in hand, administrators were faced with the challenge of deciding what to fund. They had several overarching goals: stabilize neighborhoods that had already undergone recent revitalization, reoccupy vacant houses by helping potential homebuyers and expand the pool of affordable rentals.
They decided to focus their efforts on acquiring and rehabilitating up to 200 homes, as well as helping potential buyers with downpayments. A smaller amount of money is being set aside for demolishing structures and providing first-time homebuyer counseling.
As required by HUD, 25% of the funds must be used for households whose incomes fall below 50% of the area median income -- which, for Rhode Island, comes to $36,600 for a family of four. Rental housing will be developed for these families. The remaining money will benefit those making less than 120% of the area median income, or about $87,000 for a family of four.
"We've come up with what we think is the right formula for Rhode Island to stimulate the economy and create jobs, as well as the primary purpose of saving these properties," Shawcross said.
How many homes will actually be saved will depend on the cost of acquiring and rehabbing them. It takes about $100,000 per home, on average, Shea said.
This allocation didn't sit well with some municipalities, according to officials. They wanted more money for demolition, arguing the areas were overcrowded and needed more green space.
Pawtucket, for instance, has many houses that are beyond repair, said Barney Heath, assistant director of planning. He would have liked more money to demolish homes and replace them with parks, parking lots or new housing.
"The last thing a neighborhood needs is a big hulking property nobody's going to buy," Heath said.
Administrators, however, said they opposed committing more money to demolition because it runs counter to the program's purpose.
"We don't want to point to a vacant lot as what we did with the funding," Shawcross said.
The municipalities also wanted more funds for homeownership, which is seen as a better way to stabilize neighborhoods. In Providence, for instance, many houses are multi-family units. Officials there argued that rehabbing the buildings for ownership would also create more rental apartments, while improving the communities.
But administrators said the state needs many more rentals, especially after so many people have lost their homes to foreclosure.
Now that HUD has approved the plan, administrators are waiting for proposals from community development groups that they will review on a first-come, first-serve basis. They hope to start distributing funds within weeks. Expecting more applications than they can approve, officials will give priority to those that greatly benefit a neighborhood, especially one already being revitalized.
"We require a neighborhood plan," Godfrey said. "The goal of the program is not to do one-off properties. I would rather do 40 properties and make an impact in five neighborhoods than do 200 properties scattered around and not see any impact at all."
Friday: "Recession realities: Stories from the frontline" continues -- state budget cuts hurt senior citizens.
How is your local economy affecting you? E-mail your story to realstories@cnnmoney.com and you could be included in an upcoming article.

Features

These Fortune 100 employers have at least 350 openings each. What are they looking for in a new hire? More

It would be the world's second-biggest economy. See how big companies' sales stack up against GDP over the past decade. More