Oregon and Michigan push past 12% jobless
Unemployment rises in 46 states and D.C.; Michigan leads nation at 12.6%, while Oregon shoots to second worst at 12.1%.
Map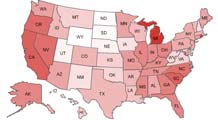 NEW YORK (CNNMoney.com) -- The government on Friday released another sobering report on the jobs crisis, with the unemployment rate rising in 46 states and pushing past 12% in Michigan and Oregon.
Michigan led the list with a jobless rate of 12.6 in March, up from 12% the prior month.
But the most dramatic increase was in Oregon, which went from 10.7% to 12.1% - the second-highest among the states.
Oregon was followed by South Carolina, at 11.4% in March, and California, at 11.2%.
The Michigan job market has been hit hard by the battered auto industry. The Big Three carmakers have shed tens of thousands of jobs because of giant corporate losses and waning demand for vehicles.
Liz Ski, an auto industry job recruiter at Hire Expectations in the Detroit suburb of Livonia, said she's getting less than half the business compared to a year ago.
"Usually, this is the time of year we start picking up, but lately it's been real slow," Ski said.
In Oregon, employment is heavily reliant on the lumber industry, which has suffered from the decline in homebuilding in the neighboring state of California and elsewhere.
"We produce a substantial amount of wood products used for residential construction, so many of our lumber and wood products are shipped to California for the housing market," said David Cooke, economist for the Oregon Employment Department. "California's economy is so large - it's 10 times the size of Oregon - so anything that's happening in California has a direct impact on our state."
Other states with double-digit unemployment include North Carolina (10.8%), Rhode Island (10.5%), Nevada (10.4%) and Indiana (10%).
North Dakota had the lowest unemployment rate at 4.2%.
The nationwide unemployment rate in March was 8.5%, an increase from 8.1% the prior month.
President Obama has made job creation a central theme in his administration. With his $787 billion stimulus package, Obama intends to save or create at least 3.5 million jobs through 2010.
This includes $26.6 billion worth of investment in the nation's infrastructure, with jobs created and layoffs avoided, albeit temporarily, through construction contracts on highways and bridges. The stimulus plan also includes direct investment in police departments, to put thousands of cops and sheriffs back on the beat nationwide.

Features

These Fortune 100 employers have at least 350 openings each. What are they looking for in a new hire? More

It would be the world's second-biggest economy. See how big companies' sales stack up against GDP over the past decade. More