Stocks plummet as bond yields spike
Major indexes give back Tuesday's gains as the yield on the 10-year note jumps to a 6-month high. General Motors looks bankruptcy bound.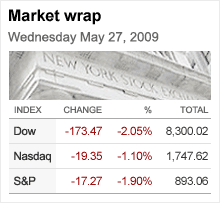 Bailout tracker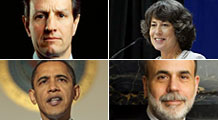 The government is engaged in a far-reaching - and expensive - effort to rescue the economy. Here's how you can keep tabs on the bailouts.
More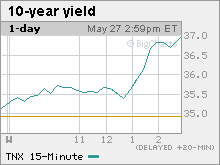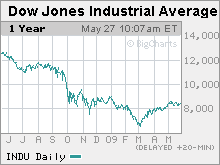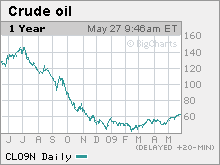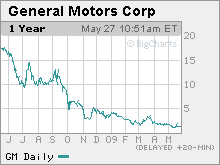 NEW YORK (CNNMoney.com) -- Stocks fell Wednesday, giving back gains from the previous session, after a sharp rise in Treasury yields added to jitters over a looming bankruptcy for General Motors.
The Dow Jones industrial average (INDU) fell 173 points, ending the day 2% lower. The S&P 500 (SPX) lost 17 points, or 1.9%. The Nasdaq composite (COMP) slid 1.1%, giving up 19 points.
Stocks had traded mixed for most of the session as concerns that GM will not be able to avoid bankruptcy overshadowed an encouraging housing report. But the selloff gained momentum in the afternoon as the yield on the benchmark 10-year bond jumped to a 6-month high.
Shares of energy producers fell even as the price of oil rose above $63 a barrel. Technology stocks, which had led gainers for most of the day, also ended lower.
Peter Cardillo, chief market economist at Avalon Partners, said the surge in the 10-year yield, along with other economic concerns, prompted many investors to cash in the previous session's gains.
"Today's economic news was somewhat mixed," he said. "It's an excuse to lighten up some positions after yesterday's rise."
Wall Street rallied Tuesday after an upbeat reading on consumer confidence revived some of the economic optimism that has lifted the market 30% from its lows in early March. But analysts say the market has settled into a range as investors look for more concrete evidence of economic growth.
"In general, we are at a point in the marketplace where it's going to take a big catalyst to get us moving upward again," said Art Hogan, chief market analyst at Jefferies & Co.
Bonds: Treasury prices fell, with the yield on the benchmark 10-year bond rising to 3.71% - it's highest since mid-November. It stood at 3.51% late Tuesday. Treasury prices and yields move in opposite directions.
Treasurys sold off shortly after the government said it received relatively healthy demand for Wednesday's $35 billion worth of 5-year notes.
Bill Larkin, a fixed-income analyst at Cabot Money Management, said many investors think strong demand for short-term U.S. debt suggests that there could be fewer buyers for longer-term bonds.
"There's an imbedded risk for longer-dated government-backed securities," he said. "That, along with signs of a strengthening economy, are two big negatives in bond land."
The increase also raised concerns that mortgage rates, which are tied to the 10-year yield, could head higher and stifle a recovery in the housing market.
Additionally, many analysts worry that the record amounts of debt coming to the market could overwhelm demand for Treasurys as the government expands already massive budget deficits.
Autos: GM (GM, Fortune 500) confirmed reports that bondholders rejected an offer from the company to trade $27 billion of debt for equity stakes, making it much more likely that GM will declare bankruptcy.
The company faces a June 1 deadline to win concessions from its union, creditors and other parties or be forced into bankruptcy by the U.S. Treasury Department, which is funding GM's operations. Shares fell 19%.
Chrysler LLC, which went into Chapter 11 bankruptcy late last month, will learn soon whether it can sell its best-performing assets to a newly formed version of itself, called Chrysler Group.
Economy: Sales of existing homes increased 2.9% in April to 4.86 million homes sold, up from a downwardly revised figure of 4.55 million in March, according to the National Association of Realtors.
April sales were slightly ahead of expectations. Analysts surveyed by Briefing.com had forecast a rate of 4.66 million units. But sales are still off 3.5% from the 4.85 million homes sold 12 months ago.
Wednesday's housing data followed a report issued Tuesday that showed the drop in home prices deepened during the first three months of the year.
Separately, a survey released Wednesday showed that business economists expect the recession to end this year. Almost three out of four survey respondents believe the recession will end by the third quarter of 2009, the report said.
Banks: The FDIC said that the number of banks on its so-called "problem bank" list jumped to 305 during the first three months of the year, up from 252 in the fourth quarter of last year. This is the highest number of troubled institutions since 1994.
Shares of Bank of America (BAC, Fortune 500) rose 1% after the company said it was "well on its way" towards raising the nearly $34 billion in capital that government regulators said it needs to buffer against future loan losses.
Companies: Monsanto (MON, Fortune 500), the world's largest seed company, said it expects 2009 fiscal-year results to be at the low end of its earnings forecast. The company said stronger-than-expected competition in the herbicides business prompted the warning. Shares fell 6%.
Office supplies retailer Staples (SPLS, Fortune 500) reported a one-third drop in quarterly profit to $147 million, or 20 cents per share, but still managed to beat analyst expectations. Excluding restructuring expenses, Staples reported earnings of 22 cents per share, one cent ahead of the analyst consensus estimate from Thomson Reuters. The stock fell 1.7%.
Other markets: Stocks in Asia soared, boosted by the overnight gains on Wall Street. European markets edged higher in midday trading.
In currency trading, the dollar rose against the euro and the yen. It slipped against the pound, with the U.K. currency rising above $1.60.
NYMEX oil for July delivery was rose $1 to settle at $63.45 a barrel. Saudi Oil Minister Ali al-Naimi said Wednesday that the global economy was capable of managing with oil as high as $75 to $80 a barrel, according to Reuters.
COMEX gold for August delivery closed at 953.30 an ounce, unchanged from Tuesday.

Features

These Fortune 100 employers have at least 350 openings each. What are they looking for in a new hire? More

It would be the world's second-biggest economy. See how big companies' sales stack up against GDP over the past decade. More