Why oil won't return to triple digits
Worries about hurricane season, the pace of economic recovery and a volatile stock market will keep prices in check.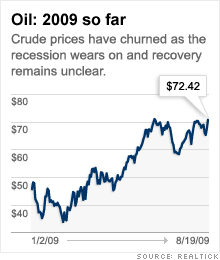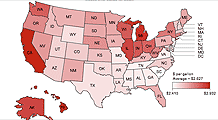 Prices at the pump can vary widely among states due to a number of factors.
More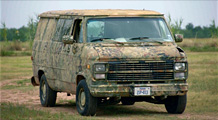 Take a peek at the heaps (no offense) these 6 turned in -- or tried to turn in -- to get their Cash for Clunkers deal.
NEW YORK (CNNMoney.com) -- Oil prices have surged more than 50% from the start of the year, but don't expect a return to triple digits anytime soon -- worries about the pace of an economic recovery will continue to drive near-term volatility.
"The market is manic right now," said Phil Flynn, analyst at PFG Best. "This is more uncertainty than I've seen in a very long time: big rallies followed by big breaks, and that's reflective of feelings about the overall economy."
Concerns about the recession -- and more recently the timing of recovery -- have translated into some big swings. Worldwide consumption faltered as the global recession took hold, sending prices lower. There have been signs of a recovery, but it won't be a straight line.
Just last month, prices swung from a 6% decline one day to a 6% gain the next. While that's not a daily occurrence, it does signal some trepidation.
On Wednesday, U.S. crude for September delivery rose $2.23, or almost 5%, to settle at $72.42 a barrel after a weekly government inventory report showed an unexpected drop in oil supplies.
Weekly inventory reports typically influence crude prices, but lately the effect is more muted as other factors gain prominence.
Mixed data stifle predictions. If the oil market is looking to economic reports for signs of recovery, the optimism barometer changes almost daily. Data in recent weeks have painted a mixed picture.
Two recent reports, for example, signaled opposite directions: Industrial production saw its first rise in 9 months, but a measure of consumer confidence showed a surprise decline.
"The data are confusing about the main question: Where are we at in the recession?" Flynn said. "One day we're jubilant about better housing data, and the next day stocks plunge on bad retail sales. It's all over the place."
Even a statement from the Federal Reserve, which said the economy is "leveling out," contained a major caveat that activity would remain weak in the near term.
Investors are left wondering whether the recovery is beginning, slowing, or even falling into a double-dip recession.
"If the data continue to be mixed, we'll see sideways movement in energy," said James Cordier, president of Liberty Trading Group. "They'll track the bounces." He predicted that oil will trade within about a $5-$7 range for the short term.
"It'll stick there until we're clear on this recession," Cordier said. "And at this point, who knows when that will be?"
Stocks offset dollar pressure. Oil prices generally move in the opposite direction of the dollar, and in tandem with stocks.
Lower crude prices typically push the greenback higher because oil is priced in U.S. dollars around the world. Conversely, crude investors look to the stock market to gauge when fuel demand will rebound.
The dollar has fallen about 10% against a basket of currencies since stocks bottomed in early March, while the S&P 500 index has rebounded 45% off its lows.
Both the foreign exchange market and global stocks have also seen day-to-day fluctuations based on data from around the world. Those influences are overtaking traditional supply and demand numbers in the oil market, Flynn said.
Hurricane season looms. Meanwhile, hurricane season is unpredictable and can easily wreak havoc on the oil market if refineries get taken out or severely damaged. The National Hurricane Center has reported three storms -- Ana, Bill and Claudette -- that could affect oil production. Production disruptions boost supply worries and subsequently crude prices.
Flynn said hurricane concerns may have driven up oil prices "a bit" as of late, but gains were limited because none of the three storms appear to pose an immediate threat.
However, hurricane season has just begun and Cordier said he expects more storms will spark a rally in oil prices within the next 30-45 days.
Meanwhile, the average price of gasoline slipped for the fifth consecutive day, to $2.628 a gallon from the previous day's $2.634, according to motorist group AAA.
China's influence. News from the world's third-largest economy has had a significant effect on markets around the globe in recent weeks, Cordier said.
For example, a 5% drop in Chinese stocks on Wednesday pressured U.S. markets early in the session before Wall Street managed to recoup those losses. In the bond market, many analysts are concerned that major buyers of U.S. debt like China and other Asian central banks are losing their appetite for Treasurys.
A Wednesday report from energy information provider Platts said Chinese oil demand rose 4.2% over last year, though Cordier noted the country has said it planned to stockpile commodities.

Features

These Fortune 100 employers have at least 350 openings each. What are they looking for in a new hire? More

It would be the world's second-biggest economy. See how big companies' sales stack up against GDP over the past decade. More