Steve Jobs's legacy
Harvard professor Nancy F. Koehn shows us how Steve Jobs stacks up with other great entrepreneurs in history.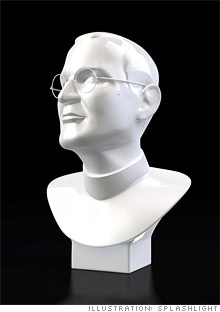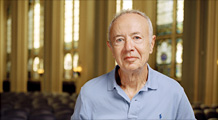 Eight people who rarely speak publicly about Jobs explain what makes him one of the best business minds of our time.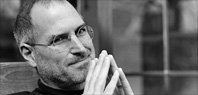 He revived Apple and remade entire industries, defying the worst economic conditions since the Great Depression -- and his own serious health problems.
(Fortune magazine) -- First and foremost, Steve Jobs is an entrepreneur. And that is how history will long remember him. Not primarily as a fiduciary or an institution builder or an administrator (though he has worn all those hats), but rather as an individual who relentlessly pursued new opportunities.
From the first Apple computers to the breakthrough innovations of the past eight years -- the iPod, iTunes, the iPhone, and his Apple stores -- he has chased new possibilities without being deterred by whatever obstacles he encountered.
Over and over again he has turned his eye and his energy -- and at times, it has seemed, his entire being -- to what might be gained by creating a new offering or taking an unorthodox strategic path.
That puts him in the company of other great entrepreneurs of the past two centuries, men and women such as Josiah Wedgwood, John D. Rockefeller, Andrew Carnegie, Henry Ford, and Estée Lauder.
Each of these people -- and especially Steve Jobs -- has been defined by the intense drive, unflagging curiosity, and keen commercial imagination that have allowed them to see products and industries and possibilities that might be. Each of these individuals has also been extremely hardworking, demanding of themselves and others. All have been compelled more by the significance of their own vision than by their doubts.
Jobs came of age in a moment of far-reaching economic, social, and technological change that we now call the Information Revolution. (Not so long ago -- in the early 1990s -- we used the term Computer Revolution, a shift in language that speaks to the breadth of change involved.) Wedgwood, the 18th-century British chinamaker who created the first real consumer brand, grew up in the Industrial Revolution, another period of profound change. And Rockefeller laid the foundations of the modern oil industry in the 1870s and 1880s, when the railroad and the coming of mass production were transforming the U.S. from an agrarian into an industrial society.
Like Wedgwood and Rockefeller, Jobs has had a sense -- analytic and intuitive -- that in a time of great transformation, a lot is up for grabs. Imbued with a perception of his own importance on a stage where everything from telephony to music distribution to consumers' relationships with technology is being disrupted, Jobs felt there was simply no time to lose.
This understanding has fueled the rapid-fire pace of his actions and his obsession with "what's next?" in products (although he would never rush to market a product he thought imperfect). It may have also fed his often harsh, dictatorial, and somehow still-inspiring management style.
People who work with Jobs talk about his maniacal attention to the smallest design detail. For Jobs, working in a world of engineers who are focused on the power of technology, this paradigm has never been enough. Yes, his products must be functional and fast. But they must also be beautiful.
One of Steve Jobs' two heroes reflects that commitment to both aesthetics and functional integrity. According to Oracle CEO Larry Ellison, a longtime friend, Jobs greatly admires Gustave Eiffel, the designer of the famous Parisian tower and the Statue of Liberty. "Eiffel is an interesting character," Ellison explained, "because he was a terrific engineer and had a wonderful artistic sense."
When Jobs decided to open the now remarkably successful Apple retail stores in 2001, the money and time that he and his team put into their design -- which involved building a prototype of a store in a warehouse -- were intended to create an experience that went deeper than retail.
And overhauling the initial store layout, not to mention going through three types of lighting just to make sure iMacs would shine as brilliantly in the stores as they did in glossy print ads, has paid off handsomely. Apple stores reached $1 billion in sales faster than any retail business in history.
Customers in the stores have no idea of the resources that Jobs invested in what was initially seen as a very risky venture for the company. And from Jobs' perspective, they do not need to know. As he once explained to Fortune, "They just feel it. They feel something's a little different."
Not surprisingly, Jobs has been widely labeled as one of the most hands-on CEOs in America. Biographers have said similar things about Andrew Carnegie, who was obsessed with the minute aspects of driving down costs in the young steel industry in the 1890s, and about Henry Ford, who, 20 years later, was fixated on all aspects of bringing a Model T to every American household.
Ford, as did Jobs, put great faith in his judgment about where consumer desire was headed. "If I had asked my customers what they wanted, they'd have said a faster horse," the carmaker allegedly commented. For virtually his entire career, Jobs has taken that comment to heart, serving as a kind of one-man band of market research and product development.
In an interview with Fortune, Jobs once described how he had turned new technologies into products: "There's a certain amount of homework involved, true, but mostly it's just picking up on things you can see on the periphery. Sometimes when you're almost asleep, you realize something you wouldn't otherwise have noted. I subscribe to a half-dozen Internet news services, and I get about 300 e-mails a day, many from people I don't know, hawking crazy ideas. And I've always paid close attention to the whispers around me."
The MacBook Air and the iPod, like the Macintosh in the early 1980s, owe much more to the "whispers" Jobs has heard, his imagination, and his precise product standards than they do to any organized focus group.
Estée Lauder, the ambitious, empathic entrepreneur who created a huge new market for fine skin care, cosmetics, and fragrances in the postwar period, had the same sixth sense about the consumer. She admired and sometimes emulated Old World European nobility, especially their classic taste and grace in everyday living.
And she brought this inspiration to the making, packaging, and marketing of her products. For Lauder, makeup was much more than a combination of chemicals that women used to improve their appearance. Cosmetics were a vehicle for self-expression and customer empowerment. They were also a source of daily joy and positive energy.
Like Lauder, Jobs is primarily concerned with products that enhance our everyday life, a belief that takes shape in Apple's "digital hub" strategy. According to Jobs, we are now in the midst of the third age of computing, the age of a "digital lifestyle" (the first era was the age of productivity, spanning 1980 to 1994, and the second was the age of the Internet, which lasted from 1994 to 2000).
In this stage of evolution, personal computers like the iMac and MacBook connect and enhance a wide range of products, from digital cameras to smartphones to MP3 players, all of which are reconfiguring how we interact with TV, film, and music as well as each other.
In this context, Jobs sees the products that Apple (AAPL, Fortune 500) has developed -- such as the iPod, iTunes, and the iPhone -- as offerings that help us each be better than we would be without them. Many years ago Jobs called the computer a "bicycle for the mind," a remarkable tool that greatly increases man's efficiency of locomotion, broadly conceived. Even now, as Apple releases products that expand our traditional notion of the computer, he continues to give us devices that complement and enhance our everyday life.
It is hard to imagine that his influence would have run so deep in our society if he hadn't been able to consistently communicate his vision of a richer digital life to employees, customers, Wall Street, and others.
And he has done this charismatically. Jobs has a kind of aura or mystery around him that has made him a celebrity. (In a recent Junior Achievement poll, American teenagers voted Jobs the person they most admire -- ahead of Oprah Winfrey and the Olsen twins.)
When the Apple founder, who is always meticulously rehearsed, walks onstage for a keynote event, the audience responds as if he were a rock star or a religious prophet. People scream. Employees, customers, analysts, and rivals hang on his every word. Industry experts run to their computers furiously to enter their latest blog entry on the future of high tech.
When he introduced the iPhone in early 2007, Jobs hailed it as a "revolutionary and magical product that is literally five years ahead of any other mobile phone." In design and capabilities, it was "like having your life in your pocket. It's the ultimate digital device." And it's ultimate marketing.
The more we learn about this brilliant, dogged, at times merciless, and yet supple entrepreneur, the more we realize that he believes he is out to change the world. And that's what seems to motivate him. He shows almost no need to display his financial worth and power. (Jobs does have a Gulfstream V, but there are few other trappings of great wealth around him or his family.)
No, the revolution of which Jobs is so much a part is unfolding by virtue of the products he makes and how consumers use them. It is a mostly peaceful revolution that will, in Steve Jobs' eyes, liberate men and women around the world.
More than 15 years ago, before most of us e-mailed regularly or had added the word "playlist" to our vocabulary, Jobs sketched out his vision of the Information Revolution's impact to Rolling Stone: "Putting the Internet into people's houses is going to be really what the information superhighway is all about, not digital convergence in the set-top box." And this development, in tandem with vast increases in computing power, meant for Jobs that the world is "clearly a better place. Individuals can now do things that only large groups of people with lots of money could do before. What that means is, we have much more opportunity for people to get to the marketplace -- not just the marketplace of commerce but the marketplace of ideas. The marketplace of publications, the marketplace of public policy. You name it."
If Jobs is right about the ways in which the Information Revolution both empowers individuals and democratizes existing power structures -- and the jury is still out on this -- his historical legacy may indeed be greater than his impact on business. It may just bear some resemblance to Jobs' other hero, Mohandas Gandhi, who staged another kind of peaceful and far-reaching revolution some 70 years ago and who saw opportunity where others saw only obstacles.
Jobs' ability to change technology, music, and entertainment has earned him great authority. Ironically, Jobs has chosen not to exercise it outside the boundaries of his industry. Unlike Rockefeller and Carnegie, each of whom created powerful foundations with big agendas for social change, Jobs has shown little interest in philanthropy. And he rarely speaks out on political or environmental issues. For a man as passionate as Jobs, one who loves Bob Dylan and the countercultural zeitgeist that he has come to represent, this seems strange. Out of keeping with the enormous ego for which Jobs is famous (and infamous). But maybe that's next.
Nancy F. Koehn is a historian at the Harvard Business School; her most recently published book is titled "The Story of American Business."