Stocks rally for second day in a row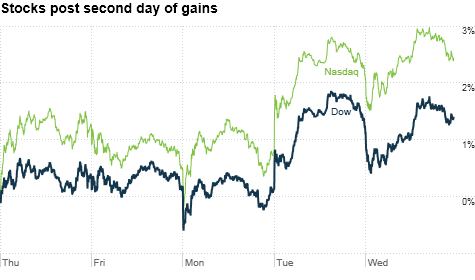 NEW YORK (CNNMoney.com) -- U.S. stocks posted their second consecutive day of gains Wednesday, turning the market around after a week's worth of losses.
After starting out the day lower, the Dow Jones industrial average (INDU) rose 10 points, or 0.1%, to 10,416 the S&P 500 (SPX) inched up 2 points, or 0.2%, to 1,094 and the Nasdaq (COMP) composite rose 6 points, or 0.3%, to 2,216.
Those gains built on Wall Street's strong advance the day before. But with no major economic releases on tap Wednesday, the market was having trouble finding direction as stocks jumped around throughout the day.
Target seemed to lift the retail sector when the company offered a profit outlook for the current quarter that was in line with analysts' estimates, even though its latest earnings were lackluster.
Otherwise, a sheer lack of other economic reports seemed to buoy markets, said Bruce McCain, senior vice president and chief investment strategist of Key Private Bank.
"This is just the eye of the storm where there's not a lot of economic information that's roiling the markets," he said. "An absence of anything terribly bad has buoyed expectations."
Bonds: Treasury prices eased Wednesday, pushing yields up. The yield on the 10-year note rose to 2.64% from 2.63% late Tuesday. Bond prices and yields move in opposite directions.
Companies: Discount retailer Target (TGT, Fortune 500) reported a profit that rose 14% from a year earlier and was in line with expectations, but the company missed revenue forecasts.
After falling earlier in the session, shares of Target rose 2.7% in afternoon trading as investors welcomed the company's outlook for its current quarter -- which is in line with analyst expectations. On a call with investors in the morning, Target management hinted at improved sales this fall.
Meanwhile, energy companies Chevron (CVX, Fortune 500) and Exxon Mobil (XOM, Fortune 500) dragged on the Dow's gains. Their stocks fell about 1% after the government announced both crude and gasoline inventories were at unusually high levels for August.
Speculators are concerned that demand for fuel is not keeping up with growing U.S. stockpiles.
Mining giant BHP Billiton (BHP) said Wednesday it was taking its takeover offer for Potash (POT) directly to the fertilizer giant's shareholders. On Tuesday, Potash's board rejected BHP's $38.6 billion bid.
Potash shares, which were up nearly 28% Tuesday, gained another 3.6% Wednesday, while BHP was down 2.9% after a 2% drop the day before.
Deere (DE, Fortune 500) posted better-than-expected profit and revenue for its third fiscal quarter, but the farm-equipment maker's earnings forecast for the current quarter of $375 million is below the $385 million analysts were looking for. Shares of Deere fell 1.8%.
Just before the closing bell, General Motors filed for an initial public offering that could drastically reduce the holdings of the U.S. government, which currently owns 61% of the company, and repay some taxpayer money used to bail the company out. The company did not disclose how many shares it will sell, or at what price.
World markets: Markets in Asia ended the session mixed. Japan's benchmark Nikkei jumped 0.9%. But the Hang Seng in Hong Kong and the Shanghai Composite both finished the session with losses.
European markets all closed lower, with France's CAC 40 dropping 0.4%, the FTSE 100 in Britain falling 0.9% and Germany's DAX losing 0.3%.
Currencies and commodities: The dollar gained against the euro, but fell against the U.K. pound and the Japanese yen.
Oil futures for September delivery fell 35 cents to settle at $75.42 a barrel. Gold for December delivery rose $3.10 to settle at $1,231.40.