Stocks recover from housing blues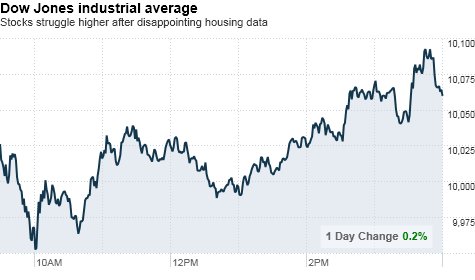 NEW YORK (CNNMoney.com) -- Stocks finished higher Wednesday after spending most of the day in the red, following another round of dismal housing news.
The Dow Jones industrial average (INDU) gained 20 points, or 0.2%, the S&P 500 (SPX) rose 3 points, or 0.3%, and the Nasdaq (COMP) composite climbed 18 points, or 0.8%.
Stocks sold off sharply immediately after the housing data but managed to recoup some losses as homebuilding and housing material stocks crept higher.
Lennar Corp., (LEN) KB Home (KBH) and Toll Brothers (TOL) all gained more than 3%.
"[It's] a sign that they had priced in the bad news, and this has allowed the rest of the market to come back," said Peter Boockvar, chief market strategist with Miller Taback & Co.
But the same news that lifted homebuilding stocks battered the financial sector, with big names like Wells Fargo (WFC, Fortune 500) and Citigroup (C, Fortune 500) edging lower.
"[Banks] have given back the entire year of gains because they are holding mortgage-related debt," said Boockvar. "House prices have taken a leg down because of this data, and if a person pays less for a home, this hurts a bank's balance sheet."
On Tuesday, stocks sank after a 27% plunge in existing home sales fueled worries about an economic slowdown, sending the Dow 134 points lower on the day.
Last week, the Dow and S&P ended down for a second straight week as disappointing economic reports slammed investor confidence.
"It's been a brutal few weeks," said Phil Orlando, chief equity market strategist at Federated Investors. "Stocks are extraordinarily cheap and oversold at this point, but the question is, are they sufficiently cheap to discount the economic weakness?"
Economy: New home sales unexpectedly plummeted to the lowest level on record in July, dropping 12.4% in July, the government reported. Economists had expected sales to bump higher.
The disappointing data comes right on the heels of another dismal housing report on Tuesday, which showed a sharp drop in existing home sales.
Meanwhile, new orders for long-lasting goods fell short of forecasts, edging up a modest 0.3% in July. Economists had expected the government report to show a 3% jump.
Companies: Homebuilder Toll Brothers (TOL) booked its first quarterly profit in three years on Wednesday, thanks largely to a boost from the homebuyer tax credit.
The company said net income was $27.3 million in the quarter, or 16 cents per share, after posting a loss of $472.3 million, or $2.93 a share, a year ago. Shares of Toll Brothers rose 6%.
World markets: European shares slumped. The CAC 40 in France sank 1%, Britain's FTSE 100 lost 0.9%, while the DAX in Germany ended 0.6% lower.
Late Tuesday, Standard & Poor slashed Ireland's sovereign debt rating to double-A-minus due to the massive cost of bailing out the nation's banks.
Asian markets also ended lower. Japan's benchmark Nikkei index dropped 1.7%, hitting a 16-month low. The Hang Seng in Hong Kong shed 0.1%, and the Shanghai Composite sank more than 2%.
Currencies and commodities: The dollar fell against the euro and the British pound, but firmed versus the Japanese yen.
Oil futures for October delivery gained 89 cents to settle at $72.52 a barrel. Gold for December delivery rose $7.90 to settle at $1,1241.30 an ounce.
Bonds: The yield on the 10-year note rose to 2.54%, bouncing off a 19-month low of 2.49% on Tuesday.
Are you under the age of 35 and pulling your money out of the stock market? What's your investing strategy amid the current economic uncertainty? Are you still willing to take on more risk? E-mail your story to Hibah.Yousuf@turner.com and you could be part of an upcoming feature. For the CNNMoney.com Comment Policy,click here.